Global Textile Services Market Analysis
29 September 2020, 9 -11 AM EDT (15:00 - 17:00 CET) • Webinar
View on TRSA On-Demand Learning
Also available: 30 September (Asia-Pacific) | 30 September (Middle East)
Global Textile Services Market Analysis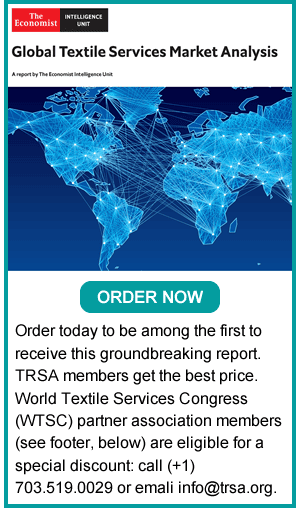 An exclusive presentation of the first-ever Global Textile Services Market Analysis, an assessment by The Economist Intelligence Unit (EIU) of opportunities to be seized and risks to be managed by the industry worldwide. Factoring the economic turmoil from COVID-19 into its study, EIU has examined shifts in key market sectors including:
Construction
Energy (oil and gas)
Healthcare
Hotels
Manufacturing
Covering countries in all world regions and combining industry expert insights with evidence-driven research, EIU, a sister operation to The Economist magazine, has examined how linen and uniform service has grown globally. This presentation will tune you into the world of possibilities for your organization to create a stronger, differentiated value proposition. You'll get ideas to shape your strategy and investments through:
Ancillary services
Deeper frontier market penetration
Sustainable practices
Increased automation
Exploring Key Opportunities – A Global Outlook
An executive panel from market leading, globally operating textile service providers discuss how their previous international expansion contrasts with and reflects the current market research and what these new findings mean to the industry. Panelists will recount their organizations' exploration in recent years of global indicators and shifting client profiles and expectations to revitalize operations in traditional and new markets.
PANELISTS:
Jim Kearns, Executive Vice President, Alsco Linen & Uniform Rental Services
Juha Laurio, CEO, Lindström Oy
Harley Oaten, Executive General Manager, Spotless, Australia
Henning Siemens, Regional Managing Director Workwear, CWS International GmbH
Pan Wei, Executive Chairman and Secretary General, China Laundry Association (CLA)
MODERATOR: Claire Casey, Global Managing Director, Public Policy Practice, The Economist Intelligence Unit
Earn CPLM Continuing Education (CE) Credits
Individuals who have earned TRSA's Certified Professional Laundry Manager (CPLM) credential may earn one Continuing Education (CE) credit towards recertification with participation in this webinar. For more information about TRSA's CPLM credential, visit www.trsa.org/cplm
Cancellation Policy
TRSA webinars are not eligible for refunds as registered attendees will have access to the recording after the live event. Please contact TRSA for assistance.
WTSC Partner Association Webinar Discount
TRSA members receive this webinar FREE. Members of the additional associations who are partners in the 2021 World Textile Services Congress (see below) will also receive a registration discount code from these associations for FREE viewing. Middle East and Asia/Australia viewers will receive registration information for recordings of this webinar broadcast at times convenient for them.