Workplace Bullies & Abrasive Leaders: Why They Act That Way and How to Make Them Stop
February 25, 2020, 10-11 am • Webinar
Register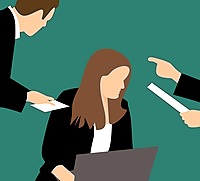 They overreact, they are controlling, they make threats and humiliate others… they are bullies, abrasive leaders, or workplace meanies. While they may be valuable to your organization given their ability to drive results, they also cost your organization in lowered morale, increased absenteeism, and in retaliation against you, the employer. Learn why abrasive people act this way (hint, it's not because they are evil psychopaths) and how to make them stop with a tried and true method that really works.
In this presentation, attendees will learn:
What drives people to engage in bullying or aggressive behavior at work
How to use the survival dynamic (fight or flight) as a lens to understand and even empathize with abrasive people
The three steps of intervention to help abrasive leaders change their ways
A coaching method proven to help abrasive leaders change, and ensure a better work environment
This is a pre-recorded webinar, therefore questions will not be answered live on the broadcast. If you have a question for the webinar presenter, please email it to webinars@trsa.org and your question will be answered offline.
All webinars are FREE to TRSA members. Non-members can register for a fee of $99.
Missed a Webinar?
All of TRSA's webinars are recorded and are available in our On-Demand Learning.
Interested in Sponsoring a Webinar?
Sponsoring a TRSA webinar is a great way to demonstrate your company's support of industry training. Email 
sponsorships@trsa.org
 for details.