Most workplaces in the industry are laundries or service centers that supply, launder and maintain linens, uniforms and other reusable textiles for all kinds of businesses.
Administration | Engineering/Maintenance | Production | Sales/Service
Under the auspices of a General Manager (GM), these functions ensure that a linen, uniform and facility services laundry serves customers with complete, timely, high-quality orders and the operation is financially sound. Corporate headquarters in multi-location companies provide support as well
---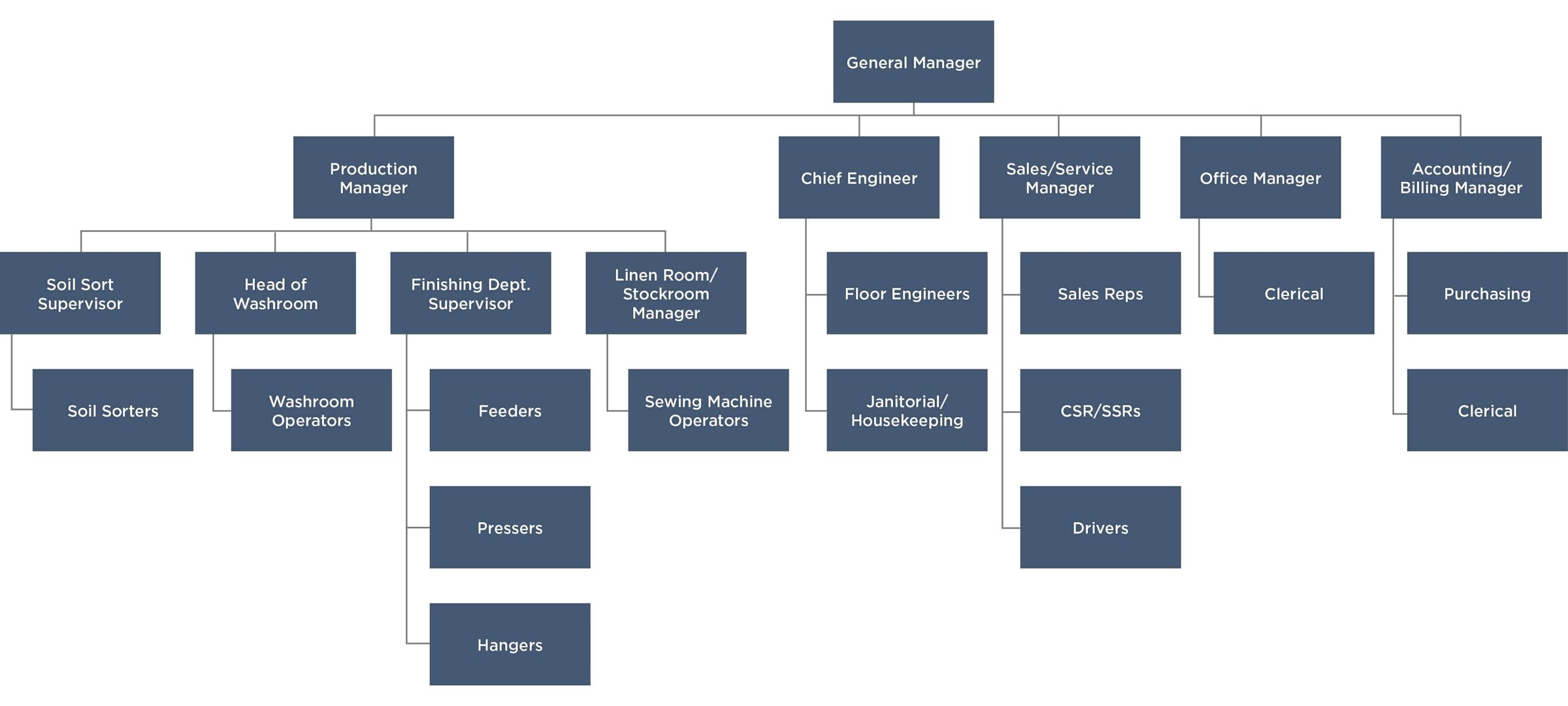 ---
Administration
This department handles largely correspondence, invoicing and other business office operations. Leaders are Office Manager and Accounting/Billing Manager positions reporting to the General Manager (GM) or the two positions may be combined. More employees are needed for this function if the laundry is a single-location operation or has only a few locations, as opposed to a larger chain with headquarters personnel who perform these tasks for the company's laundries and service centers. The same applies to functions such as purchasing, equipment selection, marketing and other practices performed by corporate headquarters/regional office staffs rather than individually by location management.
---
Engineering/Maintenance
Reporting to the GM is a Chief Engineer who supervises a crew who maintains and repairs the laundry equipment and building and works closely with other laundry managers and supervisors to maintain performance quality and meet standards of safety and cleanliness. An engineering crew performs routine and preventive maintenance and operates and maintains boiler and wastewater systems Housekeeping/janitorial staff maintains overall cleanliness including restrooms and floors and removes trash, lint and dust.
---
Production
Linen and uniform laundries typically structure production management according to workflow function: soil sorting (of items returned by customers into washloads), washing, drying/finishing (removing wrinkles) and packout (loading for delivery, inventory management). Each function often has a supervisor who reports to a Production Manager who reports to the GM. Equipment (and jobs associated with running it) for soil sorting, washing and drying are fundamentally alike in linen production and uniform production. Linen finishing requires personnel to feed sheets and towels into machines for folding and ironing; uniform finishing requires placing shirts and pants on hangers for steam tunnel finishing and sorting on rails into bundles of uniforms customized for accounts and wearers. Linen is packed out into bundles for shipping; hangers with uniforms are tied out. Inventory control functions take place in a "linen room" or uniform "stockroom," which requires more sewing and tagging for customization (alterations, emblems, inventory control tags).
---
Sales/Service
Most service positions are route drivers, either Customer Service Representatives (CSRs, hourly or salaried) or Sales/Service Representatives (SSRs, largely incentive-based pay). They may report to route supervisors or directly to a Service Manager who reports to the GM. Many operations also have office-based salespeople who may report to a Sales Manager who reports to the GM or the sales/service management position may be combined. CSRs/SSRs typically concentrate on renewing existing business and upselling while salespeople add accounts.