80th Anniversary: Division Honored by Texas State Senate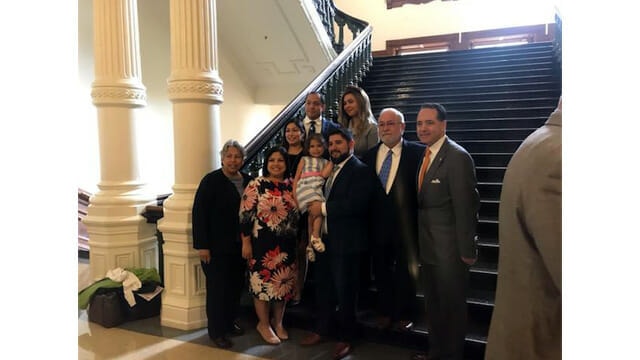 Division Laundry & Cleaners Inc., San Antonio, recently was recognized on the floor of the Texas State Senate in Austin for the company's 80th anniversary. The ceremony included a mention of how Division overcame a devastating fire in 2001 that nearly put the healthcare and hospitality laundry out of business.
"We got a nice standing ovation from the senate floor," said Division President Patrick R. Garcia, who attended the morning ceremony on March 13 with his wife Mary Helen, daughter Patricia, her husband Adam Luna, and their four-year-old daughter Emma. Also attending were the Garcia's other two children, daughter Theresa, son Patrick A. Garcia and Jasmine Brown, a close friend of the family. All three of the Garcia children, plus Luna, work full-time for Division in various leadership roles.
State Sen. Jose Menendez (D) read a proclamation honoring the company for its 80th anniversary. In brief remarks on the Senate floor, he noted how the business was founded in 1939 by Peter G. Garcia, an immigrant from Mexico. "He gave a history of the business," Patrick R. said. "He started out with my father (Peter G. Garcia) as a success story. He built up Division."
The state senator also remarked on how the family had pulled together after the fire and how the business continues to be a strong contributor to the local economy and to the community of San Antonio. "He talked about the fire," Patrick R. said. "He said what a remarkable comeback it was. He gave us kudos on that. That was very nice."
State Sen. Menendez also noted that Division currently has a 50% share of the healthcare market in Austin and a 44% share of the healthcare laundry market in San Antonio. The state senator asked the family to rise from their seats in the gallery as he gave his remarks. "Patrick Garcia, the dedication you have for your family and our community is front and center on full display," Sen. Menendez said. "Members and Mr. President, please help me welcome Mr. Patrick Garcia and his entire family as we congratulate them for 80 years of successful service and business, but more than that, 80 years of just a wonderful family in our beautiful city. Thank you for coming and letting us recognize you. You are a part of what makes our city great." The lawmakers then applauded the visitors from Division.
"It was a really proud moment when they asked us to stand up," Patrick R. said. "A lot of emotion. Of course, I think of my parents and my sister. Everybody that worked so hard."
Later in the day, State Sen. Menendez posted the following message on his Facebook page:
"Congratulations to the Garcia family and the whole team at Division Laundry on their 80 years in business. Started by Patrick Garcia's Mexican Immigrant Father in 1939, they've been an important and successful employer. Small businesses continue to be the backbone of our local, state and national economy. It's families and businesses like the Garcías and Division Laundry that make America great! #Menendez4TX
Click here to see and hear to the full presentation.
On May 6, Patrick R. said the Garcia family received additional honors from the Texas State House of Representatives, which held a similar recognition ceremony requested by Rep. Ina Minjarez (D). Click here for details.