Alsco Consolidates Salt Lake City Headquarters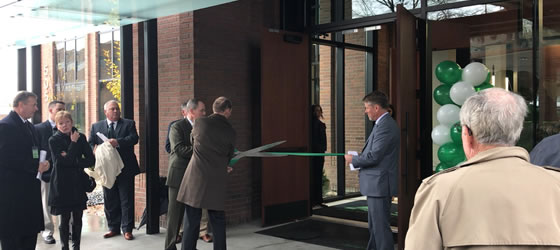 Alsco Inc. recently announced a streamlining of its two executive offices in Salt Lake City into a single building, a move that's expected to improve efficiency and staff solidarity, according to CFO Jim Kearns, who also serves on TRSA's board of directors.
"We were in the South Temple location for 50 years," said Kearns, speaking of the old offices at 505 E. South Temple. "We ran out of space in the South Temple location about 25 years ago. Over the years, IT, Sales and Marketing, Internal Audit and HR were relocated. Bringing everyone back together in one building gives us the opportunity to align our corporate culture, which has inevitably drifted apart in the different locations."
The move was announced during a Nov. 17 grand-opening ceremony at the new location at 505 E. 200 South (Salt Lake City streets are numbered in 100s radiating out in each direction from Temple Square at the center of downtown). Alsco's office consolidation will bring the company's 141 headquarters employees together in a refurbished four-story brick building, according to news reports. In an address to attendees, Kevin Steiner – company co-president along with his brother Robert – said the consolidation will help promote a more "cohesive culture."
Going forward, the Alsco departments noted will work alongside other executive staffers at a site that's undergone an extensive refit. Kearns predicted that Alsco's client base will benefit from this collocation of all of the company's headquarters staff in a single building. "We expect better communications and increased efficiencies, which will translate into better service to our branches, resulting in better service to our customers."
Alsco's come a long way since founder George A. Steiner began delivering towels to customers in Lincoln, NE, in 1888. He walked a route, carrying clean towels for customers on one arm, and soiled ones that he picked up along the way on the other. He bought the business a year later for $50.80 and six years after that moved it to Salt Lake City on a friend's advice. Today, Alsco – now in its fourth generation of family ownership – employs 17,000 people who service more than 300,000 customers in 13 countries. The company marked its 125th anniversary in 2014; it currently operates 170 plants worldwide. Click here and here for more information.