Alsco Presents Award to Winner of 'Vax to the Future'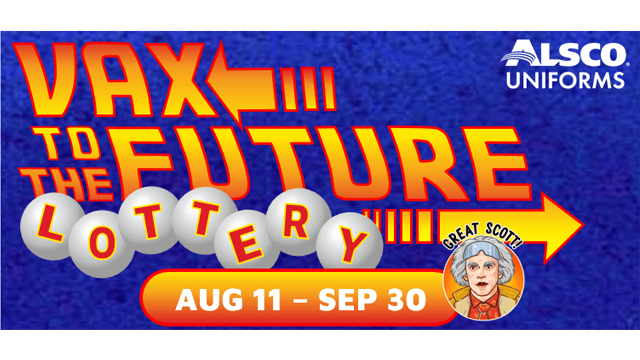 TRSA operator member Alsco Uniforms recently presented an employee at its Jacksonville, FL, facility with a $10,000 award for participating in the company's "Vax to the Future" campaign to encourage employees to get the COVID-19 vaccine. The award ceremony was captured by the local CBS affiliate.
Brock Dove, a staff member at the Jacksonville facility, was presented with a $10,000 check for getting the COVID-19 vaccine. Alsco Co-CEOs Kevin Steiner and Robert Steiner were on hand for the ceremony and presented the check to Dove.
Dove told Action News Jax that he was on the fence about getting the vaccine prior to the contest. As part of the vaccination campaign, Alsco partnered with a local pharmacy to bring pharmacists into the facility and answer any concerns staff members might have about getting shot, and to make the vaccine easily available for employees that decide to get it. After launching the "Vax to the Future" campaign, Alsco's vaccination rates at its Jacksonville facility jumped from 32% to 86% currently.
Click here to view the full report and video.