Alsco's Houston South Facility Celebrates First Year of Service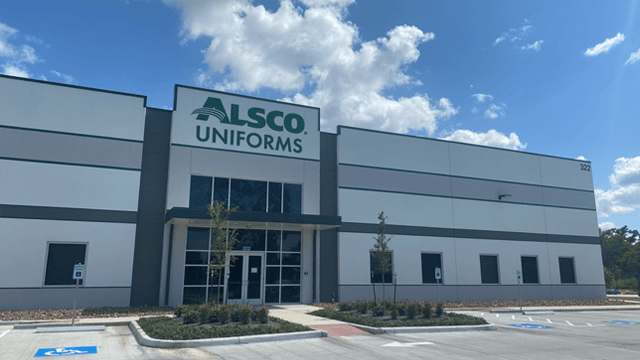 Alsco's Houston South branch opened on June 12, 2021, amid lockdowns and economic distress. Despite these challenges, the Houston South team has exceeded expectations and has proudly built a reputation for quality service in the Houston area. The team celebrates its first year of success this June with a virtual plant tour open to all who are interested in a behind-the-scenes look at their operations.
Alsco's 2015 acquisition of Admiral Linen & Uniform Service included several mixed-laundry plants. When significant Houston market growth showed signs of outpacing the existing facility's bandwidth, the company broke ground on a new 105,000-square-foot mixed-laundry facility covering nearly 11 acres on a former Admiral South Houston site.
The new state-of-the-art operation was designed with sustainability as a key concern. The plant's integrated Norchem water filtration system allows the facility to recover and reuse approximately 70% of used water, significantly reducing water waste. The system also filters chemicals to ensure the little wastewater produced protects the downstream environment, helping keep Houston green and clean for future generations.
The new larger plant footprint enables increased efficiency in tractor-trailer usage and transport systems, allowing the Alsco team to process up to 100,000 pounds of product per day with 100% accuracy. The resulting increased productivity means Alsco's Houston South plant is poised to serve increasing demand in the Houston area for years to come.
"We started off just getting used to the new systems and new equipment, but within a couple of months, we were already growing, bringing in new business," said Houston South General Manager Jerry Morales. "We're currently processing nearly 400,000 pounds per week, and we should be able to take on 50,000 additional pounds per week by the end of 2023."
To read the full release, click here.