Annual Conf. Features Industry Awards, Education & Events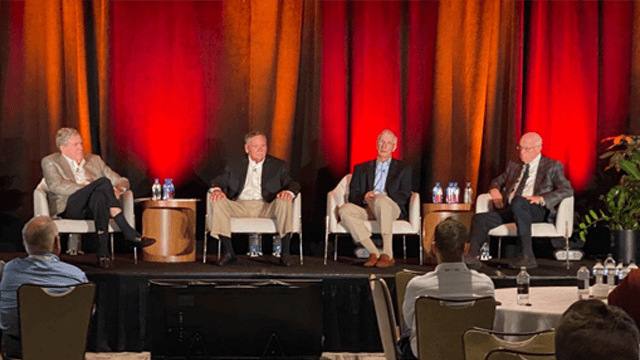 TRSA hosted a star-studded 109th Annual Conference in Nashville, TN, from Sept. 13-15, featuring keynote addresses from a well-known country singer, songwriter and actor and a former Major League pitcher, in addition to industry-specific education sessions for both operator members and supplier partners.
The three-day confab kicked off with a Supplier Partner Council meeting on Sept. 13. For more about the meeting, click here. Following a networking reception to close out the opening day of the conference, the action continued the following day with a morning keynote session titled "The Stories Behind the Songs: Chronicling the Journey through Music and Narrative" by Charles Esten, a singer, songwriter and actor best known for his role as the country singer Deacon Claybourne on the ABC/CMT hit drama Nashville from 2012-'18.
Industry-specific breakout sessions included:
Bulletproof Selling: Building Sales Systems in the Textile Rental Industry, Shawn Rhodes
The Elements of Value, John Brandt, The MPI Group
Three Things You Can Do to Enhance Trust and Teamwork in Your Organization, Dan Gonder, Strategic In/Sight Partners
The Value Proposition of an Effective Training System, Ian Bigelow and Keith Ware
During lunch, Kevin Schwalb, TRSA's vice president of government relations, gave a legislative update to attendees. He was joined by John Schaffer, EEC Environmental, who talked about PFAS regulations and its expected impact on the linen, uniform and facility services industry.
The conference closed on Sept. 15 with the Annual Membership Meeting (click here for details) and a keynote address by R.A. Dickey, a former Major League pitcher and Cy Young Award Winner with the New York Mets. Dickey also is a New York Times best-selling author of Wherever I Wind Up: My Quest for Truth, Authenticity and the Perfect Knuckleball. The final day also included an Economic and Industry Update from Andrew Wittmann of Robert W. Baird & Co. and an Industry Legends Panel Discussion featuring Robert Fesmire Sr., Ellis Corp.; Bill Mann, TRSA; Steve Larson, Alsco Uniforms; and Michael Potack, Unitex. The discussion was moderated by TRSA President & CEO Joseph Ricci. The day came to a close with the TRSA Lifetime Achievement and Board Recognition Dinner, where Brian O'Neil, president of California Linen Services, received the TRSA Operator Lifetime Achievement Award; and Kevin Minissian, former president and CEO of Norchem Corp., was posthumously awarded with the TRSA Maglin/Biggie Lifetime Achievement Award.
In addition to the education and awards, the 109th Annual Conference also featured several networking events, including tours of Studio B Recording Studio and the Country Music Hall of Fame, an interactive Goo Goo Cluster Candy Challenge and a tour of the world-famous Grand Ole Opry.
Thanks to the following sponsors: Royal Basket Trucks, Kannegiesser ETECH, G.A. Braun, JENSEN, Brim, Lavatec, Pellerin Milnor, Unitex International, Riegel Linen and ARCO Murray.