Annual Conference Advances Ideas, Networking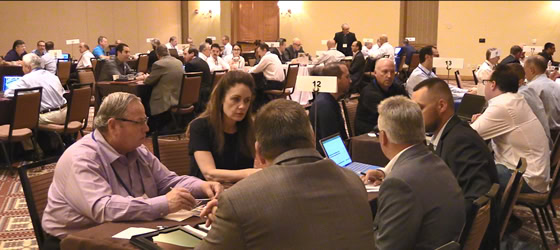 Laundry operator Noel Richardson, Shasta Linen Supply, confers with industry suppliers during TRSA's inaugural Executive Exchange program during the association's Annual Conference.
Operator member textile services launderers and associate member suppliers offered rave reviews of TRSA's Annual Conference, Sept. 19-21, in Chandler, AZ, citing its educational and networking benefits that can help operators and associates grow their businesses.
Attendees gave especially high marks to the new Executive Exchange. This program featured sessions of scheduled one-on-one meetings between operators and associates to discuss future collaboration between them.
The conference drew 225 textile services professionals, including more than 65 operators from nearly 50 companies. Participating companies in the Exchange numbered about 30 each from the operator and associate memberships.
Both were unaccustomed to the Exchange format, in which meetings took place simultaneously at tables in a large conference room that otherwise would be devoted to associates' tabletop exhibits. Operators rotated between associates' Exchange tables for two 2-hour sessions; in total, they could meet with 12 suppliers for 15 to 20 minutes each. "It exceeded my expectations," said Liz Remillong, strategic alliance VP, Crothall Healthcare, Wayne, PA. "There were takeaways from every meeting." Such a short period of time for each meeting ensured highly focused and productive discussion, she noted.
From the associate side, Scott Delin, healthcare sales VP, Fashion Seal, Seminole, FL, viewed operators recognizing the importance of supply chain matters to increasing their competitiveness. "Everyone's looking for that one edge. We're here to provide that edge," he said, adding that associates benefited from receiving fresh insights into operators' emerging business needs.
The conference also was a milestone for TRSA leadership as its top volunteer office (chairman) changed hands as planned, with the completion of the term of Douglas Waldman, CEO, Superior Linen Service, Tulsa, OK. Elected to fill this post through 2018 was David Potack, senior VP, Unitex Textile Rental Services, Mount Vernon, NY. Executive Committee and board of directors' seats also were filled.
Keynote presentations highlighted the conference agenda's educational component. Each year, appealing to executives in the highest ranks of textile services operator companies, the conference covers industry developments and economywide business and human resources trends to fuel these organizations' results-driven strategic planning. This year's keynoters included:
Capt. Mark Kelly, the U.S. Navy combat pilot who became a Space Shuttle commander, shared his experiences as an aviator, son, husband and father and how that influenced his leadership style and philosophies of defining and achieving success. Kelly emphasized the need for setting and working systematically to achieve key goals. He described how his mother's efforts to become a police officer inspired him to pursue his own career success, despite a range of a challenges. Capt. Kelly also said individal career and organizational success hinges on regular communications with peers and an unfettered exchange of views among colleagues at all levels
.
Scott Stratten: author, UnMarketing: Stop Marketing. Start Engaging. He discussed online and offline methods for staying in front of target audiences. Stratten emphasized listening to customers and validating their concerns as key selling activities. He added that if you're going to pursue social media, use it as an effective method for driving customers to your company. While this may sound obvious, Stratten served up a hilarious example of a company that posted information on social media that went viral, yet they managed to omit key information about the company necessary to generate sales. He offered a similar anecdote of company that used quick responses to social media posts to effectively defuse negative comments. In essence, effective person-to-person communication is key – regardless of whether it comes in electronic, print or in-person formats, he said.

Jason Young: author, Culturetopia: Ultimate High Performance Workplace. This Southwest Airlines veteran provided practical, easy-to-implement guidelines for a healthier and more productive and profitable organization culture. Look for ways to put employees at ease and enjoy their jobs, he said, while at the same time promoting excellence in customer service as a source of pride and personal fulfillment, Young said.
Social events during the conference fostered and renewed professional relationships and took advantage of the event's picturesque setting near Phoenix: the Gila River Indian Community, owners of the host hotel, the Sheraton Grand Wild Horse Pass Resort and Spa. For example, attendees were treated to hoop dancing and fire juggling displays at outdoor receptions. They also golfed on the hotel course, which features spectacular mountain views and rolling terrain that preserves vegetation indigenous to the area.
Evening events included the Chairman's Reception and Dinner. The latter program included recognition for outgoing Chairman Waldman and several TRSA board members for their service. Other honorees included Steve Bryant, Wildman Business Group, who received TRSA's Operator Lifetime Achievement Award, TRSA's highest recognition for a laundry operator. Ralph W. Howard Jr. also was recognized with the Maglin/Biggie Associate Lifetime Achievement Award, the highest honor available to associate members. Click here for background, and watch for follow-up coverage of remarks given by both honorees.
Bottom line? Members who attended TRSA's Annual Conference gained strategic insights through educational presentations and networking opportunities that can help them grow their businesses. They also enjoyed golf and other recreational opportunities amid the breathtaking beauty of early autumn in the Arizona desert.
"I liked the venue and it was a great conference," said Leonard McCullough, CEO and owner of Oklahoma's Linen King, LLC. He described the Executive Exchange as productive and very helpful for operators "and it seemed like the vendors got a lot out of it, too."