Annual Conference Finale Features Lifetime Award Presentations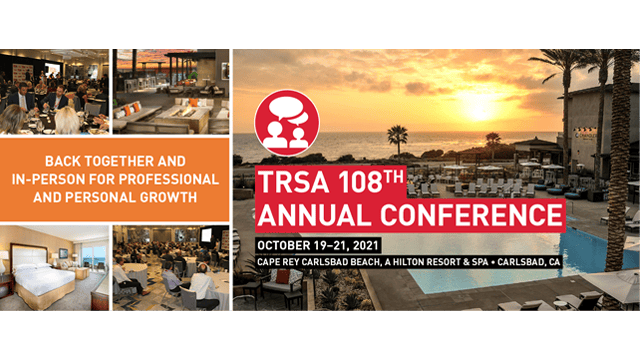 Presentation of TRSA's highest honors for linen, uniform and facility services operators and supplier partners, the Lifetime Achievement Awards, will highlight the closing dinner at the 108th Annual Conference, Oct. 19-21, Carlsbad, CA. The celebrated operator will be Robert "Bob" Brill, American Textile Maintenance (ATM), Los Angeles; and the honored suppliers, Terry Shoreman, Washing Systems Inc. (WSI), Cincinnati; and Steve Tinker, Gurtler Industries Inc., South Holland, IL.
Brill, retired ATM operations VP, a longtime, active TRSA member, served in many capacities including the Board of Directors and provided leadership support of TRSA's professional-development programs and roundtables. His committee work included Government Relations, Hospitality and Strategic Planning memberships. As a regular participant at TRSA events, he brought a respected, knowledgeable voice to plant tours in North America and overseas. In his nearly 40 years with ATM, his business acumen fostered 12 mergers and acquisitions and his organizational design and labor-management skills were invaluable to the company's and industry's growth.
Shoreman, retired as WSI's CEO in 2019, promoted TRSA's value to the industry, supporting the association through personal involvement (including his dedication to the Annual Conference) and enabling his management staff to give their time to TRSA projects. He was an active participant in uniting the Uniform and Textile Services Association (UTSA) and TRSA in 2008 from the inception of negotiations in 2005. His 44-year industry career began as an operator with Unitog Canada (now UniFirst Canada).
Tinker, Gurtler's senior VP for research/development and marketing, continues to play leading roles in TRSA events and serve on the Healthcare Committee, of which he is a founding member. He has served as chair of this committee in addition to the TRSA Education Committee and has worked with various professional-development programs for TRSA. He has published numerous articles on a wide variety of laundering technology in industry publications over the years, including Textile Services, sharing his nearly 50 years' experience in the industry as a product-development scientist and marketing executive.
The supplier-partner Lifetime award is named for the late Rudolph A. "Rudy" Maglin, a chemical supplier who finished his career with Dober Group (Spindle Technologies), Woodridge, IL; and James Biggie, the launderer-turned-garment-identification specialist for Penn Emblem Co., Philadelphia.
TRSA's Annual Conference unites members with linen, uniform and facility services industry companies who value connecting in-person with a large number of industry peers. You share experience face-to-face with representatives of local, regional, national or international companies serving businesses of all kinds, on the common ground of seeking performance improvement through industry best practices.
TRSA members' drive for success is reflected in collectively accounting for more than 90% of North
American market share. The Annual Conference delivers professional and personal enrichment from spending time elbow-to-elbow with executives and managers from TRSA companies who strive to lead the industry wherever they operate.
Participate in professional-development sessions together
Strengthen your professional network
Socialize in a first-rate setting
Conference education programs consist of industry-specific presentations and these keynotes:
General Lori Robinson, Air Force Commander, NORAD and NORTHCOM, reporting directly to the U.S. President and Canadian Prime Minister
Mike Paton, Entrepreneurial Operating System Worldwide, best-selling author, TRACTION: Get a Grip on Your Business
Roshan Mendis, Lazy Dog Restaurants, family-run Southern California-based restaurant group that navigated and grew through the pandemic