Annual Conference: TRSA Extends Early Registration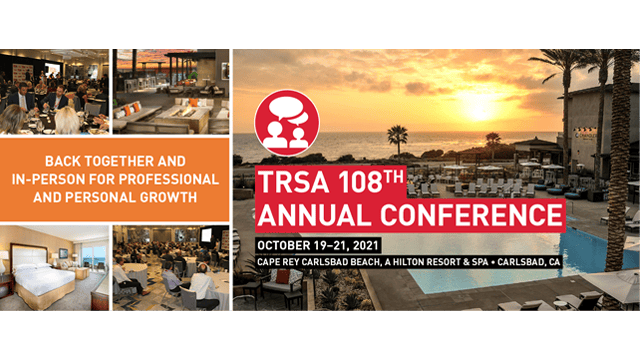 Early registration pricing for TRSA's 108th Annual Conference has been extended to Sept. 10. This year's Annual Conference is scheduled for Oct. 19-21 in Carlsbad, CA.
TRSA understands the concerns with the continued challenge that COVID-19 brings. With one of the nation's highest vaccination rates and lowest case rates, California is open to welcome visitors. TRSA will follow U.S. Centers for Disease Control and Prevention (CDC) and local government recommendations for indoor public events to ensure safety for this in-person event. Click here to review TRSA's Live Event Health and Safety Protocols for in-person events.
Additionally, TRSA also has revised its refund policy. If you must cancel at the last minute due to COVID-related issues, the association will credit the amount paid and apply it to the 2022 Annual Conference.
TRSA's 108th Annual Conference will feature world-class keynote speakers like Gen. Lori Robinson, former NORAD Commander; Mike Paton, visionary at EOS and bestselling author; and Roshan Mendis, co-founder and senior vice president of Lazy Dog Restaurants. In addition to these keynote presentations, get up to speed on industry developments, evaluate new leadership philosophies and celebrate award-winning achievement.
For more information on TRSA's 108th Annual Conference and to register for the event, visit www.trsa.org/annualconference.