Annual Meeting: Waldman Elected TRSA Chair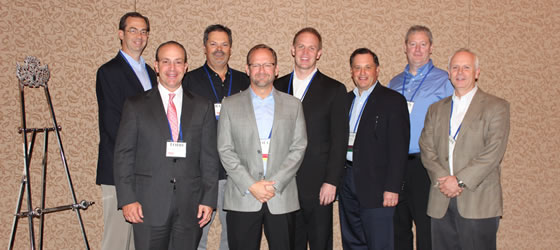 (l/r) David Potack, Unitex; Todd Schneider, Cintas; Randy Bartsch, Ecotex; Doug Waldman, Superior Linen Service; Eric Brady, Brady Linen Services; David DiFillippo, UniFirst; Chris Corcoran, Crothall Healthcare; and Mark Brim, Brim Laundry Machinery.
PRESS RELEASE
Contact Ken Koepper, 703,519.0029, ext. 109
Waldman, Potack Elected to Top TRSA Offices
The TRSA board of directors elected Doug Waldman of Superior Linen Service, Tulsa, OK, as the new chairman of the association during the group's Annual Meeting on Oct. 1 at the Bellagio in Las Vegas. He'll serve a two-year term as TRSA's elected leader (for more on Waldman, see October's article in Textile Services magazine).
The board also elected David Potack, Unitex Textile Rental Services, as vice chairman for a two-year term. Potack previously served on the board and the executive committee.
David DiFillippo, UniFirst Corp., also was re-elected to the post of treasurer. In his report to the board, DiFillippo cited a number of positive indicators regarding the association's finances. Among other bright spots, he offered thanks to TRSA associate members for their support of advertising in Textile Services magazine and the Textile Services Weekly e-newsletter. The magazine and online publications are self-supporting and don't require input from dues revenue.
Overall, since 2010, organizational top-line growth is up 25% based on rising revenues from advertising, institutes and certifications, DiFillippo said. This has resulted in less reliance on dues revenue. The year 2015 is projected to be the fourth year of budget surpluses.
TRSA is well positioned going forward, he added. "I want to thank Joe and his team," DiFillippo said, referring to TRSA President and CEO Joseph Ricci and the staff, including Vice President of Operations Tom Newell.
In other action, the board elected four new members:
Randy Bartsch, Ecotex Healthcare Linen Service
Eric Brady, Brady Linen Services
Chris Corcoran, Crothall Healthcare
Todd Schneider, Cintas Corp.

The board also approved a successor to Jim Pellerin of Pellerin Milnor Corp. to chair the Associate Committee. Mark Brim of Brim Laundry Machinery Corp. was elected by the committee to lead this organization that represents TRSA associate members.
Members rotating off the board at the conclusion of their terms include: Andre Jolicoeur, of Jolicoeur Ltd; David Potack, Unitex (transitioned to vice chair); Michael Schuelke, Aramark Uniform Services; and David Struminger, Mohenis Services Inc.