Aramark Donates 250,000 Masks to the American Red Cross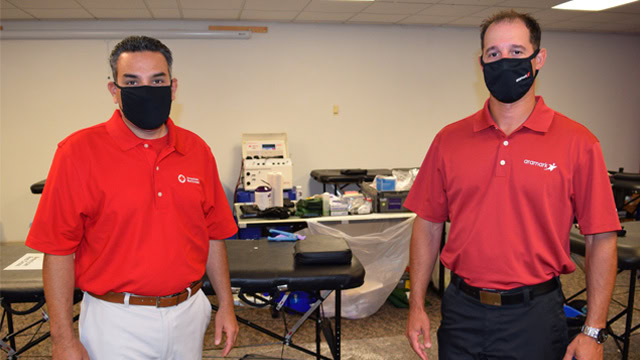 Aramark recently announced the donation of a quarter of a million face masks to the American Red Cross. The masks will be worn by Red Cross staff at blood drives during the COVID-19 pandemic, according to a news release.
"As COVID-19 continues to impact our nation and the world, there remains a need for supplies and protective gear, like these masks, to allow frontline workers and communities to safely combat this pandemic," said John Zillmer, CEO of Aramark. "We thank the Red Cross for their heroics and are proud to make this donation as we all continue to come together to do our part to protect one another."
Guy Triano, CEO for the American Red Cross of Southeastern Pennsylvania, said that, "Blood donations remain essential to the health of communities. The Red Cross needs the ongoing support of blood donors and partners like Aramark to ensure blood products are available for patients in need, including those who need surgery, cancer patients or trauma victims. These masks will protect our workers as well as our volunteer donors and help save lives."
Aramark has a long history of working with and donating material aid and financial assistance to the Red Cross during times of great need. Most recently, in April, Aramark partnered with the American Red Cross, the Debra and Leon Black Family, the Mayor's Fund to Advance New York City, and Robin Hood to launch "NYC Healthcare Heroes" and provide more than 400,000 packages of food, household and personal care products to New York City hospital staff on the front lines combatting the COVID-19 pandemic, the release noted.
Throughout the coronavirus pandemic, Aramark has provided the following:
Aramark redeployed its Uniform Services division production lines in order to manufacture essential personal protective equipment (PPE) for the heroes working in hospitals and in other critical roles across the United States.
In the communities Aramark serves, employees have banded together at hospitals, schools and other facilities, providing safe and hygienic meals, uniforms, refreshments and facility services. To date, Aramark has donated more than 175,000 lbs. of food and PPE to local organizations, including 25,000 cloth masks to its Aramark Building Community partners.
Aramark mobilized its emergency relief and large-scale event expertise to aid temporary field hospital operations in various cities.
To read the full release, click here.