As Inflation Persists, Retail Foot Traffic Reflects Consumer Trade-Down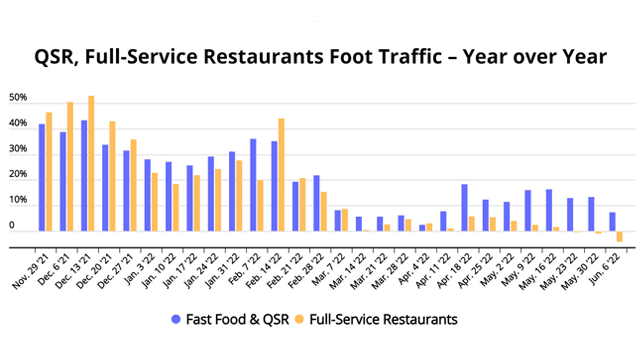 Foot traffic analytics platform Placer.ai recently quantified the COVID-induced impacts on various industries that represent a significant portion of the facility services market, identifying how recent changes in consumer behavior are hurting some segments of these industries while helping others.
Across the range of these types of businesses, foot traffic variation suggests the need for more mats, towels, restroom supplies and other facility services products in some segments and less in others, with ramifications for linen in the restaurant business.
Concludes a Placer.ai June 21 blog, "the data from the grocery, dining, apparel, dollar stores and shopping center sectors indicates that consumers are 'trading down.' As the cost of living increases, consumers are substituting their regular stores and restaurants with lower-priced options in an effort to stretch their new budgets."
Long-term impacts on retail are possible. Placer.ai noted the rise of dollar stores in the 2008 recession, when more value-focused customers visited these for the first time, then continued shopping there. When the economic outlook brightens, superstores and off-price retailers may benefit similarly as consumers choose them for items they might previously have purchased from grocery or department stores.
In the restaurant sector, the COVID Delta wave ebb sparked year-over-year (YoY) foot traffic to full-service restaurants (FSR). In late November and December, YoY visits to full-service restaurants outpaced fast food and quick-service (QSR) chains. Omicron's rise dipped January 2022 FSR traffic, but it recovered by mid-February and stayed ahead of FSR into March.
Inflation and high gas prices apparently have reversed the YoY trend. From mid-March to June, QSR was in front. Growth turned negative for FSR in May; by the week of June 6, QSR was up 7.3% and FSR down 4.0%.
In the same vein, YoY visits to grocery stores grew faster than those to superstores through 2021. By later in the year and early 2022, the two were relatively even. Since the week of April 11, superstores have led by a wide margin. But growth hasn't turned negative for grocery stores, led by chains known for their emphasis on low prices. This sector also might be supported by consumers trading down restaurant outings in favor of gourmet home-cooked meals.
In apparel, the off-price category followed the same foot traffic pattern as the wider apparel sector, from December 2021 to mid-February 2022. Then came inflation shock in March, when visits to both categories dropped. Since early April, off-price retailers are up with overall apparel visits down.
Shopping center COVID recovery had pulled ahead of discount and dollar store growth in late 2021 and early 2022. This was likely due to shopping centers' particularly low visit numbers in 2020 and early 2021, compared with the dollar and discount recovery that had begun in late 2020. The 2021 boom for shopping centers reflected consumers' reinvigorated interest in visiting malls with lockdowns and movement restrictions in the rear-view mirror. In recent months, "dollar and discount stores have overtaken YoY shopping center foot traffic – which could indicate that consumers are favoring dollar stores over shopping centers as a venue for budget-friendly browsing and product discovery," Placer.ai says.