Attendees Applaud TRSA's Canadian Roundtable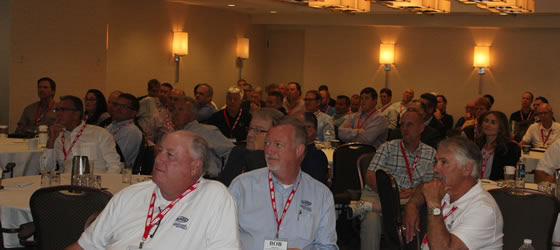 More than 100 U.S. and Canadian laundry operators and supplier partners turned out for a 1.5-day program in Toronto on Aug. 29-31 that included tours of Canadian Linen & Uniform Services and Ecotex Healthcare Linen Service plants. They also took part in a lively roundtable discussion of industry issues that kicked off with presentations by three leading operators with plants north of the U.S. border.
P.J. Dempsey, president of Dempsey Uniform & Linen Supply Inc., Jessup, PA, said the plant tours were a key draw for what he saw as an overall solid program. "I think the turnout was strong for the Canadian Linen and Ecotex plant tours and roundtable discussions because there is a strong interest in touring the plants of well-respected operators," Dempsey said. "Everyone from Canadian Linen and Ecotex was open and informative – from the CEOs at the roundtable discussions to the tour guides at the plants. The ideas generated and information shared will easily cover the cost of the trip and time away from the office."
Linda McCurdy, president and CEO of K-Bro Linen Systems Inc., Vancouver, BC, said her team benefitted from both the plant tours and the keynote address by author and corporate trainer, Eddie LeMoine. "From our standpoint, the opportunity to visit other plants that operate in the same sectors as us is always valuable," said McCurdy, who's company is the largest Canadian laundry operator. "The keynote speaker was excellent, providing not just inspirational content, but also some of the factual reasoning behind it.  Specifically, the information addressing the differences between generations and why we must take a different approach to attracting and retaining talent was particularly valuable."  
Tim Topornicki, president of Topper Linen, a Toronto-based company that's rebuilding from a devastating plant fire earlier this year, added that the Roundtable and Tours gave Canadian operators like himself a great opportunity to showcase their city, while providing a window on the business challenges facing laundry operators there. "Touring Canadian Linen's industrial plant, and Ecotex's healthcare plant was educational for all attendees," Topornicki said. "The multicultural-staffing challenges, horrendous gridlock and government requirements facing these Canadian operators surprised many U.S. visitors. Toronto, with its thousands of restaurants, clean and safe streets was a pleasure for many to see, not forgetting the 30% dollar difference, which made this trip exceptionally inexpensive." Topornicki also thanked Randy Bartsch, president of Ecotex and his team, as well as those at Canadian Linen, including the Steiner family owners.
Wiz Wyatt, vice president of strategic partnerships for AmeriPride, Minnetonka, MN, said TRSA adapted well to a larger-than-expected crowd for the program. In addition, the two plants underscored the diversity of operations across the linen, uniform and facility services industry. "I was very impressed by the turnout and our compliments to the TRSA crew for adjusting so quickly – with great results – to incorporate the increase in attendance," Wyatt said. "We were very pleased that we could show off our Toronto industrial plant, an operation that is well managed by an experienced team. In addition, I heard nothing but positive comments from our visit to Ecotex. It was smart to present a mix of businesses to showcase the breadth of our industry. It has changed significantly, even in my own brief tenure, and supports TRSA's continuous work to enhance educational offerings, certification and greater understanding of industry and government regulations."
Keith Ware, vice president of sales for Lavatec Laundry Technology Inc., said the Canadian program offered a great networking opportunity for operators and suppliers alike. He added that it's helpful for suppliers to meet with operators in this kind of educational setting. "It's always good to be able to speak to industry peers in an informal setting and catch up on news, trends, personnel changes, etc.," Ware said. "These are always the most enjoyable experiences in attending a TRSA meeting. Being able to see the pride the individual plants place on their business and level of service is something that as a supplier we don't always experience during the sales process. I think more time should be dedicated to interaction and development of these opportunities in the future."
For more on the Canadian Plant Tours and Roundtable and similar upcoming programs, readers may contact Tom Newell, vice president of operations, at tnewell@trsa.org or TRSA President and CEO Joseph Ricci at jricci@trsa.org.