Awards, Advocacy Highlight Legislative Conference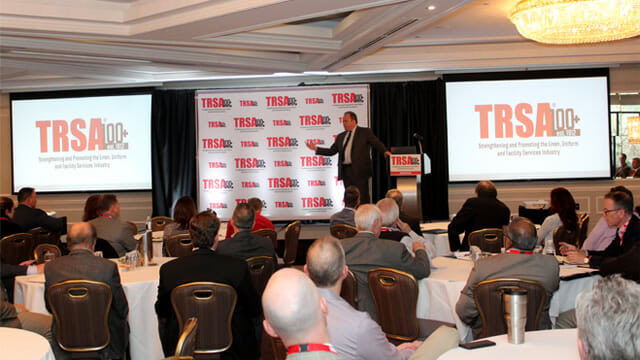 TRSA recently held its 9th Annual Legislative Conference on March 27-28 in Washington, DC. Several TRSA operator and associate member companies were honored with awards on the first night of the event, in addition to the usual slate of high-level meetings and speeches with well-known political pundits, members of the U.S. House and Senate, and key congressional staff members. At this year's TRSA Hill Day, a total of 52 executives visited 77 congressional offices to advocate on behalf of the linen, uniform and facility services industry.
The event kicked off on March 27 with a keynote speech by Chris Stirewalt, the politics editor for Fox News Channel and host of the Fox News Halftime Report. Stirewalt discussed the recent release of the Mueller Report and the impact its findings will have on strategy for both the Democratic and Republican parties moving forward. He also took several questions from the crowd. In closing, Stirewalt shared his opinion that it will take a tragic event such as another 9/11 for Americans to put aside their political differences and come together, as partisanship currently is at an all-time high.
Following Stirewalt's speech, attendees were briefed by Kevin Schwalb, TRSA's vice president of government relations, on key issues to discuss with legislators in the following day's Hill meetings. Specifically, Schwalb emphasized TRSA's support for infrastructure improvement and adoption of the U.S. Department of Labor's update of overtime rules. The day wrapped up with a prime networking opportunity in the TRSAPAC Reception and a Leadership Awards Dinner. For more on the Awards Dinner, click here and here.
The second day of the conference began with a breakfast meeting with Sens. Todd Young (R-IN) and Ron Johnson (R-WI), and closed with a lunchtime briefing from the other side of the aisle from U.S. Rep. Ben Ray Luján (D-NM). To read more about the remarks from these legislators, click here.
In between these meetings, attendees headed to Capitol Hill to visit a grand total of 77 offices of both Democratic and Republican lawmakers to discuss issues impacting the linen, uniform and facility services industry. Each attendee was armed with several folders to leave behind with TRSA's stance on the following issues:
For more information on these issues and scheduling visits with your congressional leaders, contact Schwalb at kschwalb@trsa.org.