Baird Gives Industry Economic Update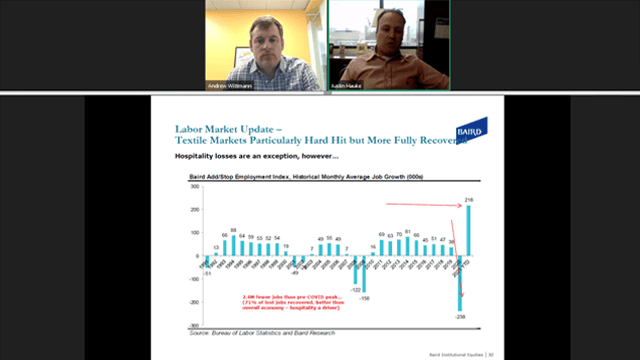 Using data from the Robert W. Baird & Co. and TRSA First-Quarter 2021 Uniform & Linen Rental Survey as well as the latest key economic indicators, a pair of Baird analysts gave an assessment of the state of the linen, uniform and facility services industry during TRSA's recent webinar presentation, titled "Textile Services Market Forecast."
The hour-long economic update was co-hosted by Baird Senior Research Analyst Andrew Wittmann and Senior Research Associate Justin Hauke. The presentation included the following information:
An update on financial markets, including the S&P 500 and cryptocurrency such as bitcoin
Key economic indicators, such as consumer spending, housing markets, inflation and the industrial economy
Labor trends, including jobless claims and the unemployment rate
The presentation also included an overview of publicly traded uniform rental company stocks, including Aramark, Cintas and UniFirst. The co-hosts compared each of the company's most recent results and looked at the impact of COVID-19 on each of these companies' revenues. The presentation closed with a review of the latest Uniform & Linen Rental Survey results from the survey released in March. To view a recap of the results, click here.
For more information and/or to participate in the Robert W. Baird & Co. and TRSA quarterly Uniform & Linen Rental Survey, contact Wittmann at awittmann@rwbaird.com or Hauke at jhauke@rwbaird.com. Thanks to TRSA supplier partner JENSEN for sponsoring the webinar.
TRSA offers 150+ industry-specific programs that provide professional development and training on a range of issues, including regulatory/compliance matters, safety, best practices and strategies for enhancing productivity. Go to www.trsa.org/ondemand to visit TRSA's On-Demand Learning Portal to view this webinar and more.