Baltimore Mayor Applauds New Up To Date Plant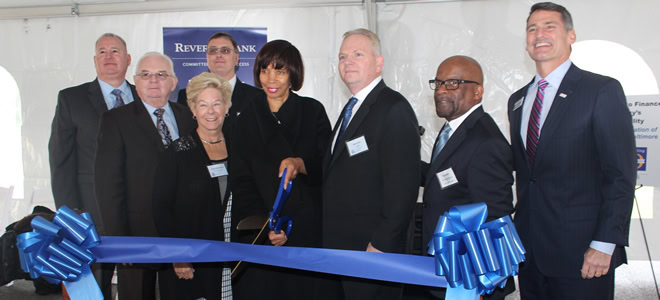 On a brisk, sunny morning in early December, community leaders, including Mayor Catherine Pugh, joined area healthcare, company executives, vendors, finance and economic-development experts in commemorating a new Up To Date laundry in Northeast Baltimore.
The Dec. 4 grand opening of the healthcare launderer's 80,000-square-foot plant drew about 40 people, including Up To Date Laundry Inc. managers and family members for a 10 a.m. ribbon-cutting that took place under a large tent pitched next to the new plant.
"This state-of-the-art facility certainly adds to the fabric of Baltimore city," said Mayor Pugh, who praised this regional independent known for its commitment to the community. "Let me say thank you for staying in the city. Thank you for growing in the city. Thank you for providing this opportunity for employment for those who've been here and for those who will come here. I am very excited."
Mayor Pugh and her staff have worked closely with Up To Date as it planned the opening of a second plant that will provide customers with additional capacity beyond the company's DeSoto Road facility. "Our mayor's office of employment development will always be open to making sure we train employees that will contribute to the well-being of this company," she said. "So again, thank you all. We will continue to work with you as you grow as an institution in our city."
Up To Date President and CEO Mark Carter recalled a luncheon meeting shortly after Mayor Pugh's election on Nov. 8, 2016, in which they talked about a range of issues of concern to local residents and the business community. "I know when she was elected as mayor, we were excited as business leaders because we knew we had a partner that understood the relationship between business and the community. You can really see that here today."
Carter thanked the mayor and her administration, including the Baltimore Development Corp., for backing the project that will bring 160 jobs to start and could expand to 300-400 jobs and 72 million lbs. of new production in the next five years. "She helped us along the way to get in touch with the right support for this project," Carter said.
Expanding on Mayor Pugh's comments, Ken Grant, vice president, general services for Johns Hopkins Hospital, emphasized the importance of community partnering among businesses, government and healthcare institutions to help city residents expand their opportunities. "This has been an interesting journey as we started our conversations a while ago," Grant said. "It ended up with all of us believing that we could make this work. We can make this a viable relationship on an ongoing basis – Hopkins and Up To Date. And more importantly, create more jobs for the city of Baltimore."
Other speakers at the event included Revere Bank President Ken Cook; and Corey Blanton, Up To Date's senior vice president of sales and marketing, who served as master of ceremonies for the program.
Blanton thanked the Up To Date team for putting the new plant together with speed and efficiency. "These are really great exciting times for us," he said, acknowledging staff, "who worked their brains out to make this happen. I know there's a lot of late nights and long days and a lot of testy moments as you're trying to put together multiple pieces of equipment. It's always a challenge to make it work and run well. So I'd like to thank everybody for what they've done here today."
After their remarks, the speakers joined with managers and owners of Up To Date to cut a blue ribbon symbolizing the opening of the plant. Attendees then broke into groups of about a dozen for tours of the new plant, which is expected to begin operating later this month.
The facility includes three Lavatec Laundry Technology tunnel washers and UniMac and B&C Technologies washer/extractors that soon will be processing roughly 100,000 lbs. of textiles per shift. Along with efficient throughput, Up To Date is committed to ensuring safety and environmental conservation. The company has pursued third-party certification programs to enhance its operations in these areas. "We're proud to say we're one of very few laundries in the United States that has a hospital laundry accreditation, a Hygienically Clean Certification and a Clean Green environmental certification," Carter said. "We're very proud of that. We really feel that separates us from our competitors."
Cook, whose bank financed the plant project, credited Up To Date's focus and attention to detail for its steady growth. "They've taken a 71-year-old business and positioned it for the future through great planning and execution, resulting in this plant," he said. "While at the same time, grinding out the same production and quality demands necessary for success in this business. That's incredibly impressive."
Carter cited a strategic-planning effort conceived and carried out by staff as a key contributor to Up To Date's ongoing expansion. "When I joined in 2009, we developed a vision and a mission and a plan," Carter said. The pursuit of that plan has enabled the plant to max out production at its existing facility, which led to the need for the new plant at 1921 62nd St. "In 2009, our annual revenues were $14 million a year," Carter said. "We are poised in this year to break the $28 million mark. It's really part of following our vision. Our vision must be to become the familiar provider of laundry services for healthcare in the Mid-Atlantic region. We have followed that vision."
Just last year, Up to Date marked its 70th anniversary. The company began in 1946 processing textiles for ships docking in Baltimore Harbor as well as local businesses. Nancy Stair-Carter, who took over the company in 1994 after her father, founder William Stair Sr., passed away, said the new plant represents the latest chapter in the company's history. "Today is an exciting day for myself, Up To Date Laundry and the city of Baltimore," she said. "I am proud to have been able to expand our footprint in this city that I love and was very near and dear to my father's heart."