Battling a 'Black Swan' – TRSA's Strategic Town Hall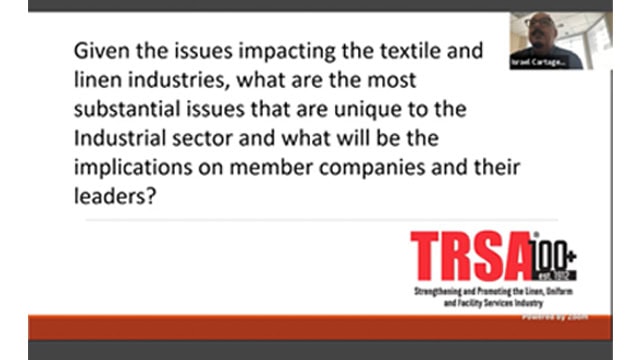 Nearly 100 laundry operators and suppliers recently engaged in a four-hour discussion of the COVID-19 crisis and ideas for moving forward during an online "Industry Strategic Town Hall" session sponsored by TRSA. The June 23 program included separate, simultaneous sessions for all four major market sectors, with an emphasis on operators exchanging views through an electronic "chat" function. TRSA President and CEO Joseph Ricci said TRSA will forward the session findings to TRSA's Strategic Planning Committee and Board of Directors for consideration during next month's planning meetings.
"We're certainly living in interesting times right now," Ricci said in closing remarks. "There's a ton of uncertainly, not only created by the COVID crisis and closures, but you've got political uncertainty and you've also got social unrest. You've got lots of things going on that make life uncertain. That's not good for business. But if we can do things as an association and a group together, continue to communicate like this, continue to share experiences and our thoughts around these issues, I think everybody gets comfort out of that. And I think it will help the industry not only survive in a post-COVID business environment, but really thrive in that environment. There's a lot of positive opportunities for us as an industry."
Keynote speaker Dean West, president of the Association Laboratory, Chicago, which recently conducted a survey of 23 operators and 11 supplier company leaders on the COVID response and trends over the next 2-5 years, said the industry was grappling with seeking solutions to challenges that virtually no one anticipated.
"What all of us are facing is called a 'black swan,'" he said. "Think of yourselves sitting in your offices in your facilities in January. You understand how to get customers. You understood how to serve customers. You had a variety of assumptions that you were confident about: How to lead and grow your business. Suddenly, six months later, many of those assumptions have gone away."
Finding effective ways to respond amid the wreckage of those shattered expectations occupied the breakout sessions conducted by operators and suppliers working in the food-and-beverage (F&B), healthcare, hospitality and industrial sectors.
The moderators for the F&B group included Walker Morgan, General Manager, Morgan Linen Service Inc., Menands, NY; and Dan Score, sales engineer, Kannegiesser ETECH, Minneapolis. In the summary session after breakouts, Score quipped that this was his "first podcast … I don't know if it will get picked up by any major labels, but it went well. We kept things moving. We got some good feedback from the audience."
Along with hotel launderers, F&B companies have faced the most severe impact from COVID-19 due to the closures of many restaurants and limited reopenings in many states. These operators are deeply concerned about the future course of the pandemic. "It's really the 'What's next' factor for everyone," Score said. "What's next? What to prepare for? If it's a second wave of COVID or just where things are at now. I don't have the answer, but I think that's what people want – to have a more confident response to that question." In the meantime, operators are biding their time seeking to "sharpen their sword," by making improvements to their plants, short of costly complete overhauls.
While healthcare operators haven't seen the business contraction that F&B or hotel laundries have experienced, the pandemic has posed its own challenges, including supply chain issues that have led to shortage of isolation gowns and other personal protective equipment (PPE) that hospitals need to protect patients and staff from the virus. Co-moderators Mel Davis, regional sales manager, Kannegiesser ETECH; and David Potack, president, Unitex, Elmsford, NY, said the discussion touched on both internal and external growth opportunities. On the upside, while the PPE shortages have posed a crisis, this challenge could open the way for greater use of reusable PPE vs. disposable items, mainly imported from the Far East. Potack added that the focus on hygiene has drawn attention to TRSA's Hygienically Clean certification program. "Folks in Hygienically Clean, we talked about the benefits of that certification and if you're not Hygienically Clean, to consider it," he said. "If you are Hygienically Clean, try to leverage that to this overall public health, public safety, public hygiene conversation. That can differentiate your business and add to the value proposition. It was a good discussion."
From the hotel side, session co-moderators Steve Miller, vice president/general manager of Victor Kramer Co.; Seaside Heights, NJ; and Doug Story, president, sales and marketing, UNX, Greenville, NC; emphasized the importance of hygiene to hotels' recovery efforts. Miller said hotel laundries should follow the example set by healthcare laundries in terms of keeping patients, hospital and laundry staff safe. Certification programs like Hygienically Clean Hospitality could help push that effort forward, he said. "That's certainly where Hygienically Clean is going to come into play," Miller said. "I think if they can adopt many of the policies and procedures that the healthcare industry has done, they'll perform very well. And that itself will bring opportunities."
Of the four market segments, in most cases industrial uniform operators have felt the least impact from COVID-19. Israel Cartagena, service and operations team leader for Roscoe Co., Chicago, said that his company's volume recently grew to nearly 90% of its pre-COVID volume. However, concerns remain about supply chain issues for garments, and the need to apply extra staff to pursue accounts-receivable efforts. On the upside, he sees market growth opportunities for new products and the possibility of converting "no programmers," to uniform rental plans due to an added emphasis on hygiene. Co-moderators Kasey Wahl, director of sales and marketing, WSI, Cincinnati; and TRSA's Kevin Schwalb, noted that the discussion in their group centered on growing the workwear sector. "The point of market expansion was really hit hard in our chat," Wahl said. "Exploring new products and new customers. Making the nonprogrammers a potential customer." Schwalb, TRSA's vice president of government relations, added that, "We focused more on opportunities. The folks from the industrial sector feel that the there's an opportunity for the pie to get bigger because of this issue."
To advance the growth and recovery goals identified in each sector discussion, Ricci pledged to continue outreach efforts to federal, state and local leaders, and to continue partnering with trade groups such as the American Hotel and Lodging Association (AHLA) and the National Restaurant Association (NRA). He commended all the Town Hall participants, particularly the discussion leaders, many of whom had little experience with this type of event.  "From what I saw and what I'm hearing right now, I think we did a nice job of facilitating discussions and getting everybody engaged," Ricci said. "Using the chat, I think we were able to capture a lot of good information."
CEO, senior executives and owner-operators from the following organizations participated in the half-day session including:
• Allegiant Linen Services LLC
• Alsco Inc.
• American Textile Maintenance
• American Wear Inc.
• Ames Linen Service
• Andoco/CVR Uniform
• Aramark Uniform & Career Apparel
• Arrow Linen Supply Co. Inc.
• Arway Apron & Uniform
• Cadillac Uniform & Linen Supply Inc.
• Cintas Corporation
• CITY Laundering Co.
• Colmac Industries Inc.
• Complete Linen
• Cooperative Laundry
• Crothall Laundry Services
• Crown Health Care Laundry Services, LLC
• Crown Linen LLC
• Crown Linen Service
• Dempsey Uniform & Linen Supply Inc.
• EcoBrite Linen
• Economy Linen & Towel Service Inc.
• Ecotex Healthcare Linen Service Corp.
• Emerald Linen Services
• Envise Partners, LLC
• FDR Services Corp.
• Foley Services Inc.
• FOLTEX USA, LLC
• G.A. Braun Inc.
• General Linen & Uniform Service
• Gunderson Uniform & Linen Rental
• HandCraft Services Inc.
• Healthcare Linen Services Group
• Hospital Central Services, HCSC-Laundry
• ImageFirst
• Irving Weber Associates
• JENSEN USA, Inc.
• Kannegiesser ETECH
• Kemco Systems Co. LLC
• Lace House Linen Supply, Inc.
• Laundry Design Group, LLC
• Lavatec Laundry Technology, Inc.
• LinenMaster
• Loop Linen Service Inc.
• Magic Laundry Service Inc.
• MediCleanse Linen Service
• Medline Industries Inc.
• Metro Laundry Service
• Metro Linen
• Mickey's Linen
• Miller's Textile Services Inc.
• Mission Linen Supply
• Moonsoft International
• Morgan Linen Service
• Morgan Services Inc.
• National Dust Control
• Norchem Corp.
• Northwest Health Care Linen
• NOVO Health Services, LLC
• People's Linen Service, LLC
• Prudential Overall Supply
• PureStar Group
• Royal Hospitality
• Riegel Linen
• Roscoe Company
• Sacramento Laundry Company
• Shasta Linen Supply Inc.
• Sigmatex-Lanier Textiles
• Six Disciplines Consulting Services
• Spindle
• St Croix Linen
• Sunburst Chemicals Inc.
• Superior Linen Service
• TLC Linen Services, Inc.
• United Laundry Services, Inc.
• United Linen Service
• Unitex Healthcare Laundry Services
• UNX Chemicals
• Vega Systems USA
• VF Imagewear
• Victor Kramer Co.
• Westport Linen Services
• White Knight Engineered Products
• White Plains Linen
• Wildman Uniform & Linen
• WSI