Battling Unconscious Bias – A 'Journey to Inclusion'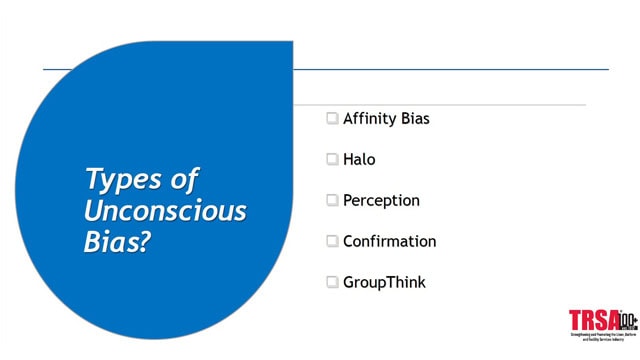 Amid the public furor over recent police shootings of young black men in Minnesota and Wisconsin, the topic of diversity awareness – including strategies on how companies can tackle "unconscious bias" against employees from varying backgrounds – has taken on a new urgency. TRSA members gained strategic insights on how they can enhance their companies' approach to inclusion/teamwork during an Aug. 27 webinar by HR specialist Gloria Sinclair Miller.
"These are not always going to be comfortable conversations," said Sinclair Miller, who serves as field services director for the Society of Human Resource Management (SHRM). "Communication and listening are going to be the key things that you're going to have to do. And finding common ground and ways to connect. So even when you think you're totally different from someone else … you're probably not that different. But the only way you're going to know is to learn."
In a one-hour presentation that drew nearly 90 registrants, Sinclair Miller explained the concept of how unconscious bias develops. She also identified steps that individuals and companies can take to root out prejudicial thinking that can undermine staff solidarity. For example, she noted survey data that shows that 38% of employees are uncomfortable speaking to work colleagues about race or related issues. However, the dual "pandemics" of COVID-19, coupled with the civic unrest stemming from the recent police shootings of George Floyd and Jacob Blake, mean that 2020 is a year of opportunity for improving staff communications. Doing so can help your company grow. If approached with candor and dedication, companies can begin a journey to greater awareness of bias. This action can help build a culture that respects the differences among employees and inspires them to achieve greater success.
"If we come out of 2020 and we haven't changed our behavior in some way, this year was wasted," said Sinclair Miller, who is based in Atlanta. "Because this is a turning point for our new normal in our workplaces."
To help identify the sources of unconscious bias – which she describes as a universal human trait – Sinclair Miller asked attendees to write the names of five members of their "inner circle," i.e., people they rely on for advice. If those five people are of the same race, gender, religion and educational background as you, the chances are your life experience is limited in terms of your outlook on inclusion and diversity.
News media and marketing images also promote unconscious bias. Sinclair Miller presented a set of four photos of people of varying ethnic and racial backgrounds. They included a black man, an Asian woman, an older white man and a young white woman with glasses. She then asked a series of questions, including having attendees look at the one photo that they thought was an athlete. "How many went to the black guy?" she asked, noting that media has fed this common stereotype. Similarly, she suggested more attendees would identify the older white man as a doctor. Both reactions are fueled by media and marketing portrayals, she said. The problem is these attitudes spill over into the workplace.
Even seemingly innocuous biases can hurt your company by discouraging open dialogue among employees, including the discussion of race issues noted above. Poor communications undermine staff unity and contribute to negative workplace attitudes, including the fact that one in four employees dread going to work, 75% said they're not proud of the companies they work for and 48% said they're considering other jobs, Sinclair Miller said, citing employee-survey data.
Another challenge facing companies is "micro-indignities" or "micro-inequities," which Sinclair Miller described as language that carelessly – though not necessarily maliciously – demeans employees. These acts can alienate individuals from a company. An example could be when a manager says good morning to every employee, but unintentionally omits one or more people. Less-subtle slights include "micro-aggressions" that can have an even more significant negative impact. "That happens when someone says something like 'Oh you don't sound black, or I would have never guessed you were gay.'" Sinclair Miller said. Typically, such language is more careless than cruel, but in either case it can undermine staff morale, she said.
Apologies help, but a better response is to embrace diversity – not only of race, gender or sexual orientation – but a wide range of life experiences and ideas can help companies address these challenges in ways that enhance unity. Having more team-oriented employees can fuel growth, Sinclair said. She described a three-stage process that begins with a conscious focus on diversity, followed by regular communications and a strategic emphasis on including each employee in the company's mission. This can lead to a workplace culture that draws the best efforts from each employee. The ultimate goal is to empower employees to reach new heights of unity that can fuel their company's success. It's not an easy process and leadership buy-in is critical. Above all, companies must integrate the idea of diversity, inclusion and the elimination of unconscious biases into their strategic plans. Otherwise, it's sure to fail. "If you're not tying this to the results and the strategy of your organizations, it's not going to go anywhere," Sinclair Miller said. "It's going to be the 'the latest thing,' and in 2021 you're going to move on to something else."
TRSA has an on-demand learning library that will let you "live stream" all the association's webinars. TRSA members can purchase webinars, and other training and educational resources at a reduced member price.
Visit www.trsa.org/ondemand to go to TRSA's On-Demand Learning portal to view this webinar and more.