Best of the Industry Honored at Annual Awards Dinner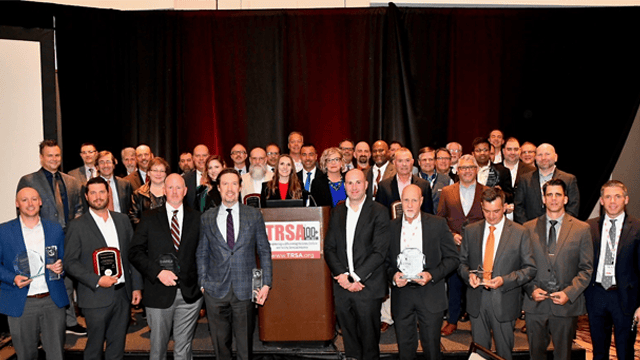 The 13th Annual Legislative Conference concluded its opening day with the Annual Industry Awards dinner to spotlight the best of the linen, uniform and facility services industry in several categories, including Plant of the Year, Above & Beyond Service, Company Community Service, Safety Excellence and more.
The event featured opening remarks from TRSA President & CEO Joseph Ricci, followed by a dinner for the 125 members of the linen, uniform and facility services industry in attendance at The Westin City Center in Washington, DC. The following awards were presented during a ceremony after the dinner:
Above & Beyond Service
Mark Brim, Brim Laundry Machinery
Darleen Capen, LinenMaster
Foltex USA
Nicolas Legault, Gurtler Industries
LinenMaster
Brian Madonia, Ecolab Textile Care
Steve Marsh, Wildman Business Group
Chris Northcutt, Foltex USA
Drew Skolar, ImageFIRST
Tim West, Sparkle Uniform and Linen
Chris Williams, Foltex USA
Best Plant of the Year
Emerald Textiles, Livingston, CA
Best Video
Ecolab Textile Care
Ecotex Healthcare Linen Service
Halifax Linen Service
Infinite Laundry
JENSEN USA
Service Uniform
SonicAire Inc.
Tingue
Unitex Healthcare Laundry Services
Clean Green Innovation
Balfurd Linen Service
Ellis Corp.
Company Community Service
Cintas Corp.
Ecotex Healthcare Linen Service
Penn Emblem Co.
Standard Textile
UniFirst Corp.
Diversity Recognition
ImageFIRST Healthcare Laundry Specialists
Spindle/Dober Group
Member Engagement
Alsco Inc.
JENSEN USA
Kannegiesser ETECH
MIP USA
Pellerin Milnor
Superior Linen Service
Service Linen Supply
Unitex International
Safety Excellence Award
ARCO/Murray
Balfurd Linen Service
Ecolab Textile Care
Linen King
Meese
Superior Health Linens
UNX-Christeyns
Virginia Textile Service
Volunteer Leadership
Emily Hauber, CITY Clean & Sample
U.S. Rep. Troy Balderson (R-OH) was honored with TRSA's Legislator of the Year award at the Annual Industry Awards Reception, which took place prior to the start of the Awards Dinner. Rep. Balderson thanked TRSA for its support and its focus on a range of issues vital to the U.S. economy as well as the success of linen, uniform and facility services operators and supplier partners. For more information on TRSA Awards, visit www.trsa.org/awards.
The Annual Industry Awards Dinner was the culmination of a full day of committee meetings, keynote speakers and legislative briefings. A total of 11 committees held meetings at the conference. These include:
Education Committee
Environmental
Government Relations
Healthcare
Hospitality/F&B
Human Resources and DEI
Industrial, Uniform & Workwear
Information Technology
Marketing & Sales
Next-Generation Executives Network
Safety
After the committee meetings concluded, Bob Cusack, the editor-in-chief of The Hill, gave a keynote address on important political issues to keep an eye on moving toward the 2024 presidential election. Cusack's talk also addressed the role of the news media, which he acknowledged has grown increasingly partisan in recent years, such as with Fox News on the right and MSNBC and CNN taking an increasingly leftward stance. The Hill's goal is to strive for balanced, accurate but hard-hitting coverage of politics and policy news from the nation's capital, he said.
Following Cusack's keynote, Brian Wild and Drew Littman, both policy directors at Brownstein Hyatt Faber Schreck LLP, gave attendees an update on the latest issues on the Hill from a Republican and Democratic perspective.