Best of the Industry Honored at Annual Awards Dinner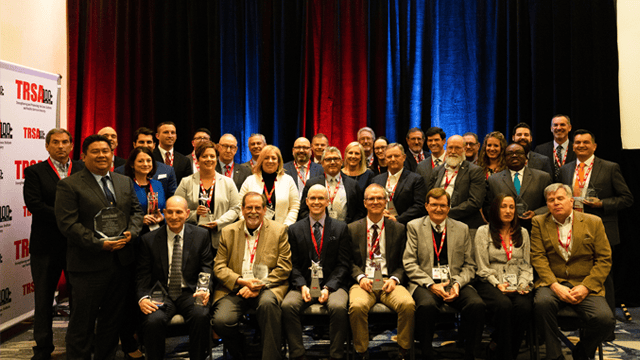 Nearly 100 attendees gathered for TRSA's Annual Industry Awards Dinner on March 30 to honor the winners of 40 awards and accolades for association members that went above and beyond the call of duty in 2021-'22. The TRSA Awards Dinner was held in conjunction with the 12th Annual Legislative Conference, which took place March 30-31 at the Westin Alexandria Old Town, Alexandria, VA.
The ceremony concluded with the TRSA Best Plant of the Year Award, given to the Unitex Healthcare Laundry Services facility in Linden, NJ. Former TRSA Chair and Unitex President David Potack expressed his gratitude for the recognition in remarks at the ceremony. He was joined by Unitex executives Mike Lang, process analyst, and Charles Edelman, corporate safety director. Opened in 2016, the 67,000-square-foot facility employs about 200 full-time equivalent employees, producing nearly 140,000 pounds, serving 26 to 28 routes, while operating seven days a week. The Hygienically Clean Healthcare certified operation uses a variety of indicators to measure performance: profitability, energy use [1,441 Btu/lb.], turnover [53%], safety [4.1% days away, job restriction, transfer rate (DART)] and the heavily tracked pounds per operator hour (POH, 213), calculated by using clean pounds shipped divided by total production hours, excluding maintenance and drivers.
Other awards given during the two-hour dinner and awards ceremony that capped the first day of events at the Legislative Conference included:
Above and Beyond Service Award
The Executive Team of Halifax Linen Service, Roanoke Rapids, NC
Scot Marsh, district manager, Max I. Walker Uniform Rental, Omaha, NE
Mace Lenhart, sales representative, Medline Industries Inc.
Jim Stiles, regional sales manager, Lavatec Laundry Technology
Rick Woods, regional manager, Gurtler Industries Inc.
Arnaud Henrard, founding partner, Foltex USA, and Mark Simoneau, director of technical support, Foltex USA
Foltex USA, Columbia, SC
LinenMaster LLC, Vero Beach, FL
UNX Industries Inc., Greenville, NC
Clean Green Innovation Award
Aramark Uniform Services, Burbank, CA
Brady Linen/PureStar, Las Vegas, NV
Cintas Corp., Mason, OH
Ecolab Textile Care, St. Paul, MN
Kemco Systems, Clearwater, FL
Millers Textile, Wapakoneta, OH
New System Laundry, Portland, OR
Sitex Corp., Henderson, KY
Company Community Service Award
ImageFirst, King of Prussia, PA, with special honors to Jamee Niles, vice president of human resources
Landau Uniforms, Olive Branch, MS
Roscoe Co., Chicago
Diversity Recognition Award
Aramark Uniform Services, Burbank, CA
Emeka Okeani, CEO, Shared Hospital Services, Nashville, TN
SafeTRSA Safety Excellence Award
Recognized Individuals:
Jay Addis, North American safety and production leader, Alsco Inc., Salt Lake City
Hector Durand, safety and health manager, and Aaron Elberson, safety manager, Prudential Overall Supply, Irvine, CA
Honored Operations:
HandCraft Services, Richmond, VA
Logan's Uniform Services, Shelbyville, KY
PureStar Group, Las Vegas, NV
Superior Linen Service, Springdale, AR
UniFirst Corp., Owensboro, KY
Video Award
Visit the awards page on the TRSA website at www.trsa.org/awards to learn more about TRSA awards and how you can nominate candidates for next year.
TRSA's 12th Annual Legislative Conference concluded the following day with its annual "Hill Day," which included visits with members of the U.S. Senate and House of Representatives in their offices on Capitol Hill in Washington, DC. Click here for a recap of the meetings. For a full rundown of TRSA's 12th Annual Legislative Conference, click here.