Biden Bill, Healthcare Regs Hot Topics at TRSA Town Halls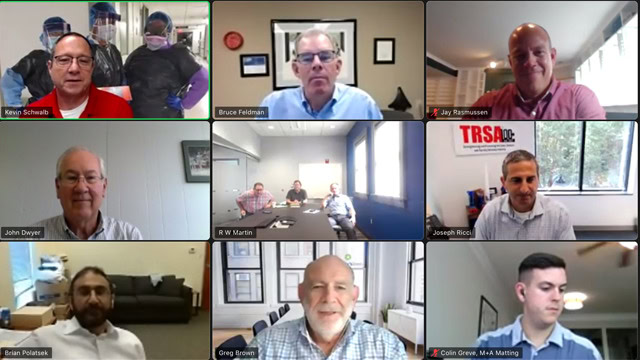 TRSA recently hosted regional town hall meetings for Midwest and South/Southeast regional operators and supplier partners. The information-sharing sessions were conducted virtually and featured presentations by TRSA President & CEO Joseph Ricci and Vice President of Government Relations Kevin Schwalb.
Ricci kicked off both meetings with a recap of TRSA's recent Reopening Tour trip to the West Coast, along with a state of the association. He noted that TRSA has several in-person events coming up, including the 108th Annual Conference on Oct. 19-21 in Carlsbad, CA. Click here for details.
During his presentation, Schwalb discussed the following:
COVID-19 vaccine mandates for employers and an expected emergency temporary standard from the U.S. Occupational Safety & Health Administration (OSHA).
The pair of infrastructure bills currently making their way through Congress, including both the bipartisan infrastructure legislation and the Biden Administration's Build Back Better "human infrastructure" plan. Schwalb detailed the reasons these bills are having difficulty passing Congress, and how the "human infrastructure" bill would be paid for through increasing the corporate tax rate.
An update on per- and polyfluoroalkyl substances (PFAS) regulations, and a recap of a recent meeting that Schwalb held with an association representing publicly owned treatment works (POTWs).
The push for healthcare providers to stockpile reusable garments. TRSA is asking for a U.S. Centers for Disease Control and Prevention (CDC) recommendation for a 50% operating supply of reusable garments and personal protective equipment (PPE).
TRSA also is asking the CDC to recommend that employers provide fresh, clean, professionally laundered healthcare scrubs to their employees, and not allow employees to wash scrubs at home due to the increased risk of infection spreading from contaminated garments due to the inadequate home-wash process.
TRSA is looking for a FEMA designation to prioritize linen, uniform and facility services providers and the essential services that they provide in natural disaster situations.
Schwalb wrapped up with an overview of state initiatives that TRSA is working on in places like California and New York. After a discussion of labor shortage and supply chain issues impacting the industry, both calls closed with an interactive question-and-answer session and discussion with the attendees.
TRSA will host a Canadian Regional Town Hall on Oct. 12. Click here for more information and to register for the event.