Braun Recertifies ISO 9001:2015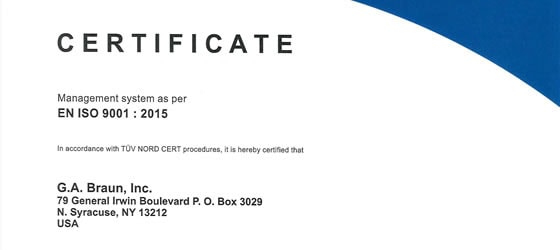 G.A. Braun Inc., ISO certified since 2005, recently was recognized by auditors from TUV-USA as one of the early companies to embrace the new 2015 ISO Standard. The new standard places added emphasis on the following areas of the business process: leadership engagement, organizational risk and opportunity management, supply chain management, user-friendly service and knowledge-based organizations, according to a news release.
"The new standard required that our team strengthen and enhance every aspect of our quality management system, and we are extremely pleased that this system not only places significant emphasis on measured performance within our operating environments, but also on the report card that our client-partners provide to us," said G.A. Braun President Joe Gudenburr. "We are proud of our team, the hard work that they put into this effort, and dedicated efforts that they make each and every day to support the needs of our valued customers around the globe."
During the past 12 years since Braun first attained ISO certification, the company has not only retained that status, but it's embraced the expanded requirements that this system has placed on them to support the rapidly evolving domestic and international business environments, the release said.