Breakthroughs … Textile Services' May Focus on Innovation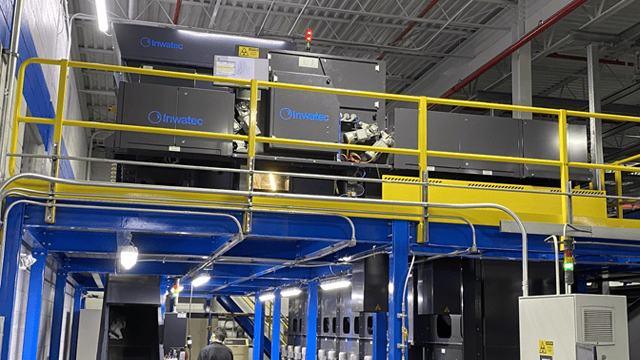 The cover article in this month's Textile Services focuses on a series of plant innovations. Common themes among the operators cited in this piece, titled "Innovation – 'Every Problem Is an Opportunity,'" include breakthroughs in automation, resource conservation and ergonomics. Highlights from the article appear below.
In terms of cutting costs, anything that an operator can do to reduce his or her biggest expense – labor – is welcome. Mark Bodzioch, president of Clean Uniforms and More, New Bedford, MA, has moved boldly in his plant's soil-sorting department to do just that by automating the sorting process. Bodzioch recently invested in a soil-sorting system from Inwatec, a Danish company that's 70% owned by JENSEN-GROUP. Bodzioch, an industrial launderer, said the move was part of a broader strategy of plant upgrades. "In the past four years we've had a long-term capital plan where we did a lot of things," Bodzioch said. "We practically did the whole plant over. When I heard about Inwatec four years ago, I was looking at another piece of equipment and that happened to be there." The opportunity for labor savings with automated sorting appealed to Bodzioch. "Labor has become a rarer commodity," he said. "So you could see these savings on that end with the route reps not having to sort clothes."
The sorting system takes up 38-by-20 feet (10.3-by-6 meters). It operates on a mezzanine level to limit the amount of floor space needed to accommodate it. An operator drops goods onto a conveyor that goes up to the sorting robots. After sorting, garments drop into slings through a nearby chute system. They then move via overhead rail to the washer/extractors. Bodzioch estimates that the system is delivering a 10% labor savings for both route and plant staff. "It cut down overtime more than anything," he said.
Another operator we spoke with has applied a slightly less bold but broad-based approach to innovation in his development of a new plant. While it doesn't have sorting robots, Economy Linen's facility in Dayton, OH, features an array of advanced systems for maximum efficiency.
Martin Foster, vice president of operations for Economy Linen, oversaw the March opening of a new 80,000-square-foot (4,645-square-meter) plant. Saving labor, as well as natural resources was a principal focus of this design-build facility constructed by ARCO/Murray.
A key differentiator in terms of efficiency and the competitiveness of the new plant is its advanced material-handling systems, Foster said. "I think one of the big things is the integration from sort to rail to wash aisle to the ironer lines to conveyors on the back end. We went with a full conveyor system with automatic wrappers for our retail (outpatient) medical." Another significant addition is a system near the packout area for bulk healthcare that will separate out textiles by customer and product category.
A second new plant, just opened in April is NOVO Health Services' Miami facility. This laundry has married the idea of advanced technology with recruitment/retention by building a laundry with an emphasis on employee comfort and safety. "In their design here, they added areas and steps of automation that frankly I didn't know existed," says Shane Ledbetter, an industry veteran tapped in December as vice president of operations for NOVO. "To truly minimize the amount of additional effort that's required from the employees, ergonomically speaking, for example, this is light years above anything I've seen. I don't think there's a piece of equipment in this facility where the raw material isn't presented to the employee directly in front of them. There's zero turns, zero bending and lifting. It is presented at waist-high level, directly in front of them 100% of the time."
For more on these and other recent innovations, watch for May's cover story in Textile Services magazine.