Bryant, Howard Lead TRSA Award Honorees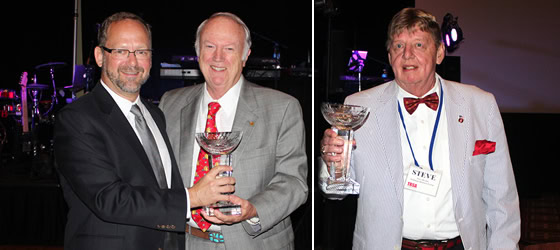 (l/r) Chairman Doug Waldman hands the Maglin/Biggy Associate Member Achievement Award to Ralph Howard, Kleen-Tex; Steve Bryant, Wildman Business Group, holds up his Operator Lifetime Achievement Award.
A veteran of management of textile services operations from national chains to local independents and the owner/operator of an international floor mat manufacturer have been honored with the highest accolades for industry service awarded by TRSA.
Steve Bryant, CEO emeritus of Wildman Business Group, Warsaw, IN, received the Operator Lifetime Achievement Award on Sept. 20 at the Annual Conference & Executive Exchange in Phoenix; Ralph W. Howard Jr., founder and director, Kleen-Tex Industries, La Grange, GA, took home the Maglin/Biggie Associate Lifetime Achievement Award from the same occasion. Both honorees are 40-plus-year veterans of the industry.
Bryant started in the business in 1974 as sales manager for Spalding's, Louisville, KY, advancing to general manager. He was executive VP for another independent, Chin's, New Orleans. His experience with multi-plant operations included serving as chief operating officer for Initial USA (U.K.-based) and Service Control Corp. (Fort Lauderdale, FL) and CEO of Apparelmaster (Harrison, OH), overseeing seven corporate-owned laundries and serving 155 franchisees.
More recently, while in semiretirement, he began consulting with Wildman and developed a 5-year strategic plan for the company. That turned into the CEO's position. In 2000, the company had $3 million in annual sales and more debt than revenue. But "the finest textile company and leadership team in my career," Bryant says, expanded the business into a $40-million operation with 31 percent profit in textile rental. Wildman has donated more than $3 million to Christian organizations.
Bryant credited TRSA and especially Textile Services magazine for contributing to his career success. In that first job at Spalding, he discovered back issues of the magazine and stayed late reading them to educate himself on the industry. "After one week, I find a closet with what had to be a thousand TRSA magazines," he said in his remarks. "Every day from 5 p.m. until 10, I read TRSA, made hundreds of notes on my legal pad and found the answers the following day. Within two years, I was the general manager and youngest officer in the company. So TRSA, you trained me and started me on a 40-year career ending with this highest honor today and did so via your magazine."
Howard has been an innovator and advocate for the industrial laundry industry for more than 45 years. He developed the first rubber-backed mat in 1970, giving launderers a truly washable floorcovering product. He moved quickly to offer washable mats abroad, first establishing a joint venture in the United Kingdom, then opening a manufacturing plant in Japan. Subsequently, Kleen-Tex would do business in many countries, with strongholds in Brazil and South Africa.
He served on industry government relations committees from 1980 to 2008, helping to articulate to federal, state and local agencies the economic and social benefits of textile services. In his remarks, Howard recalled a meeting with a senator that drove home the message of how critical TRSA's advocacy role is to the industry's success. "Fighting against bad regulations is a never-ending battle but it can be a lot of fun," Howard said. "I met with Sen. Herman Talmadge (D-GA) – a genuine old-school Southern politician. As I was leaving his office, Talmadge said. 'Boy, before your visit, I didn't know there was a textile rental industry. You did the right thing coming to see me. Here's the way it works in Washington, DC: the squeaky wheel gets the grease.' Keep that in mind when you are asked to donate to TRSAPAC."
Howard has long been a strong supporter of TRSA professional development programs as well, sending staff to educational institutes, summits, conferences and the Clean Show.
Also feted at the Annual Conference:
Outgoing Chairman Douglas Waldman. Completing his 2-year term in TRSA's top elected post, Waldman, president, Superior Linen Service, Tulsa, OK, was honored with donations to his charity of choice, the Folds of Honor foundation. TRSA members gave more than $15,000 to this group, which provides educational support to families of fallen U.S. soldiers.
Service Awards. This year TRSA is honoring more than 200 individuals from member companies who have worked for 25 years or more in the industry. Two 50-year honorees, L.K. McCullough, Linen King, Tulsa, and Michael Potack, Unitex Textile Rental Services, Mount Vernon, NY, received their Service Awards at the conference. Others who have worked at least 45 years in the industry:
45+: David Drolet, General Linen Service, LLC, Somersworth, NH; Jaime Garcia, Othella Johnson, Rigoberto Rincon, Morgan Services, Inc., Chicago
50+: Nelson Shrager, Budget Uniform Rental, Inc., Gardena, CA; John Spence, Hamilton Linen, Denver
55+: Shirley Rosenberg, Australian Uniform Service, Virginia, Queensland
60+: Raymond Ventura, Ventura Uniform Service, Kenner, LA
Officers and Directors. These individuals completed their terms on the Board of Directors and/or Executive Committee:
Carl Bjorkman, Hr Bjorkmans Entremattor, Arlov, Sweden
David DiFillippo, UniFirst Corp., Wilmington, MA
Jim Doro, Doritex Corp., Alden, NY
Bill Evans, AmeriPride Services, Minnetonka, MN
Ed Kwasnick, ARCO/Murray, Downers Grove, IL
Volunteer Leadership. Serving as TRSA committee chairs and in other roles, these individuals are commended for sharing knowledge and experience to support specific TRSA programs.
Steve Florence, Starr Textile Services, Foley, AL, Education Committee chair, Production Management Institute (PMI) faculty.
Russell Holt, Superior Linen Service, Tulsa, OK, Safety Committee chair
Kelly Saliba, Economy Linen & Towel Service, Dayton, OH, Human Resources Committee chair, PMI faculty
Zach Sonnenklar, Iron City Workplace Services, Pittsburgh, Marketing/PR Committee chair
Changing of the Guard. Acknowledged for previous service on the Executive Committee of the Board of Directors and elected to new top leadership posts: Unitex's David Potack, who succeeds Waldman as chairman through 2018 and Jim Buik, Roscoe Co., Chicago, who succeeds Potack as vice chairman over the same term. Waldman remains with them on the Executive Committee. Joining this committee as TRSA's new treasurer and, like the others, continuing on the Board, is Noel Richardson, Shasta Linen Supply, Sacramento, CA.
Newly elected to the Board are:
Baba Devani, Berendsen PLC, London
Jim Lee, Aramark Uniform & Career Apparel, Burbank, CA
Milton M. Magnus III, M&B Hangers, Leeds, AL
James Vaudreuil, Huebsch Services, Eau Claire, WI
Tom Watts, Prudential Overall Supply, Irvine, CA