Building Community: Leaders Applaud Prudential Plant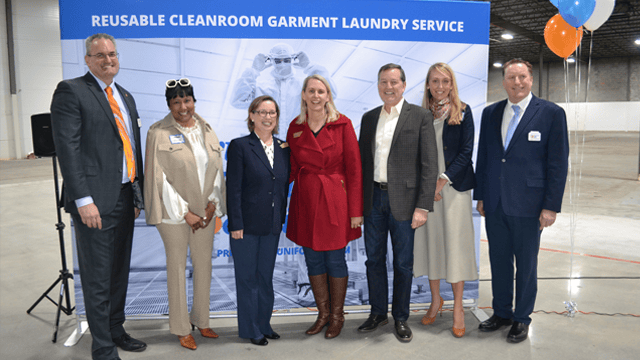 Nearly 60 state, county and local elected officials, plus community and civic leaders, gathered on Nov. 16 at the future site of an industrial/cleanroom laundry in Tucker, GA, to celebrate Prudential Overall Supply's $35-million investment and an anticipated 100-plus jobs for residents at a facility that will serve metro Atlanta and beyond.
"My vision for Tucker is a place where a person can live and work and play and pray," said Mayor Frank Auman, who addressed attendees at the site of the plant, a newly cleared building that Prudential expects to open in 2024. "So when we get a new investment like this and 100 jobs that will be here, it means that people can live near where they work. That means they can get to church, the kids' ball games and restaurants. And the volunteer organizations they are a part of. That's how we build a community. So thank you. We look forward to all that's on the horizon for us."
Chris Welch, president of Prudential, returned the compliment after Auman and other officials had expressed their support for his company's expanded presence in metro Atlanta. "We're very happy and honored to have so many attendees here today," Welch said, speaking on behalf of Prudential, including the family owners CEO John and Chairman Dan Clark. He specifically thanked the speakers, including Auman, Kristi Brinkman, deputy commissioner of the Georgia Department of Economic Development; and Dekalb County Commissioner Lorraine Cochran-Johnson, for backing the project, including various tax abatements for which the company could qualify. Welch added that when fully operational, the new 61,000-square-foot (5,667-square-meter) laundry will significantly boost Prudential's capabilities in the region. "We're very excited to be able to expand our presence in the great state of Georgia with this new facility."
Welch described Georgia as a "dynamic market" with vast growth potential. "Our commitment to the city of Tucker to Dekalb County and the state of Georgia is significant," he said. "We expect to spend over $35 million completing this new facility. More important than the money we spend here will be the employment opportunities that we create. When fully matured, we expect to have over 100 full-time locally resourced jobs out of this facility. Our greatest story is the people that make up the company, the 2,100 people that are on our roster today. We look forward to expanding that story."
The plant will include an industrial uniform laundry on one side and a cleanroom facility on the other," Welch said. The latter operation will focus on partnering with companies that operate in controlled-manufacturing environments such as semiconductors, pharmaceutical, bioscience, aerospace and others. The industrial area will process workwear and imagewear for a range of service and manufacturing businesses. He anticipates that the new plant will open in early 2024. "This would be Prudential's 36th location and our ninth ISO Class 3 cleanroom facility in the United States," Welch said of the Irvine, CA-based launderer that in recent years has developed a national footprint. The Tucker facility not only will significantly increase the company's production capacity in the southeast; it will make Prudential the largest available capacity provider of cleanroom laundry services in the U.S., he said.
Cochran-Johnson, the Dekalb (pronounced "DeKab") County Commission member, said she's delighted at the prospect of bringing more growth to Tucker and the rest of this area northeast of downtown Atlanta. "I'm excited to be here today because representing the diversity that I do … I've taken a keen interest in economic development. I have always said that economics is the tool that levels all playing fields. You create jobs and provide opportunities."
In an interview after the 10 a.m. ceremony, Cochran-Johnson said she sees particular promise for Prudential's cleanroom and industrial-laundry operations due to the growing demand for these services throughout the region. "More and more, people are concerned with identification apparel, so this is a great time with safety concerns and the world that we live in," said Cochran, who worked in sales for two years in the industrial-laundry industry, after completing graduate school. "It doesn't matter whether you have a lawn-care service, or whether you own a restaurant. Everyone wants identification-apparel, and the unity and conformity that it brings to an organization. It tends to elevate the perception of the business, within the community and from those who patronize it."