Business Pulse: Increased Hygiene Stressed in Latest Survey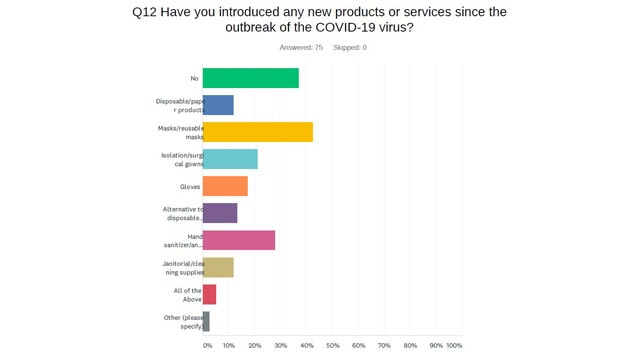 TRSA recently completed its latest Business Pulse Survey of operator members. The fourth iteration of the survey received a total of 75 responses to help the association gauge the linen, uniform and facility services industry's ongoing recovery amid the COVID-19 pandemic.
Industry operators have implemented several measures to combat the impact of COVID-19 in laundry facilities. These include:
Increased housekeeping/cleaning (80%)
Shortened production hours/days (77%)
Reduced days/shifts/hours (73%)
Shortened/canceled routes (63%)
Delayed equipment/product/service orders (53%)
Temperature checks (52%)
Hiring freeze (51%)
Furloughs (51%)
One survey respondent commented, "Keep up the good work. Continue to spread the information about the advantages of commercial linen service, especially in the area of hygiene."
Survey respondents were split evenly on when revenues would return to pre-COVID-19 levels:
Six months (21%)
12 months (24%)
18 months (23%)
More than 18 months (19%)
Eleven percent of survey respondents indicated that revenues would return to pre-COVID-19 levels within 90 days and 3% responded that they would never return.
As a result of the COVID-19 pandemic, several survey respondents indicated that their company has begun providing its customers with new products. The most common additions included masks/reusable masks (43%), hand sanitizer/antiseptic (28%), and gloves (17%). A total of 37% of respondents haven't introduced new products since the pandemic hit earlier this year.
While many linen, uniform and facility services companies have offered new products to customers as a result of the pandemic, supply chain issues continue to be a concern as 80% of survey respondents reported problems getting items from suppliers. Hand sanitizer (65%), gloves (45%), isolation gowns (39%), scrubs/surgical textiles (32%) and masks (28%) were the five most-difficult items to obtain.
To review the results of the first, second and third Business Pulse Surveys of operator members, click here, here and here, respectively. TRSA also ran a pair of Business Pulse Surveys of associate members/suppliers to the linen, uniform and facility services industry. Click here and here to see the results of the associate surveys.