Business Pulse: Initial Survey Shows Hard Hits to Hospitality, F&B Sectors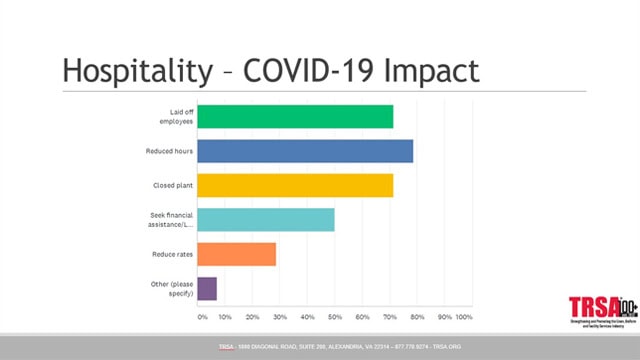 TRSA recently closed its initial Business Pulse Survey, designed to get a snapshot of the economic activity in the various sectors of the linen, uniform and facility services industry in the wake of the COVID-19 pandemic. Results of the survey will be published and reported every two weeks in the Textile Services Weekly e-newsletter.
Nearly 115 operators took the initial Business Pulse Survey, which closed on March 27. Preliminary results were reported in the March 23 edition of Textile Services Weekly. Click here for an overview of the preliminary findings.
Survey results were broken out by the following market sectors:
Acute Healthcare – Reported a slight decline in revenues. 59% of acute-care operators saw a decline of 10% of revenues from hospitals and long-term care, with several survey respondents attributing this to hospitals discharging patients to free up beds for potential COVID-19 patients.
Non-Acute Healthcare – 80% of non-acute healthcare operators projected revenues to fall well below expectations 30, 90 and 120 days from the date of the survey. 80% of non-acute care operators reported reduced hours in their plant as a result of a decline in elective surgeries and outpatient procedures.
Food & Beverage – 70% of F&B operators reported revenues well below expectations in the past 30 days. As a result of the sharp decline in revenues due to mandated closures of restaurants in several states across the U.S., 78% of F&B operators have laid off employees and 89% have had to reduce hours in their plants.
Hospitality/Hotels – As a result of revenue shortfalls due to decreased travel worldwide, 71% of hospitality operators have eliminated routes, 57% have shortened routes and 71% have reported a reduction in delivery days per week to customers. Additionally, 71% have laid off employees, 78% reported reduced hours and 71% have closed down their processing plant altogether.
Industrial/Uniform – 38% of survey respondents indicated a drop of 10-20% of revenues as a result of COVID-19. 71% of industrial operators have reduced operating hours as a result and 94% have shortened their routes.
TRSA's April 2 webinar, titled "TRSA Coronavirus/COVID-19 Update," featured a Business Pulse Survey update from Jason Risley, senior editor, digital/new media, TRSA. The webinar also featured a state of the industry update from TRSA President & CEO Joseph Ricci; a government relations and CARES Act update from TRSA Vice President of Government Relations Kevin Schwalb and Sarah Mercer and Andrew Elliott of Brownstein, Hyatt, Faber and Schreck; and market-sector reports from Randy Bartsch, Ecotex Healthcare Linen Service; Israel Cartagena, Roscoe Co.; Harry Kertenian, Magic Laundry Services; and Mark Lewis, Dempsey Uniform & Linen Supply. Visit www.trsa.org/ondemand to access the entire webinar recording online on TRSA's On-Demand Learning Center.