Business Pulse: Operators Weigh in on Loans, Industry Messaging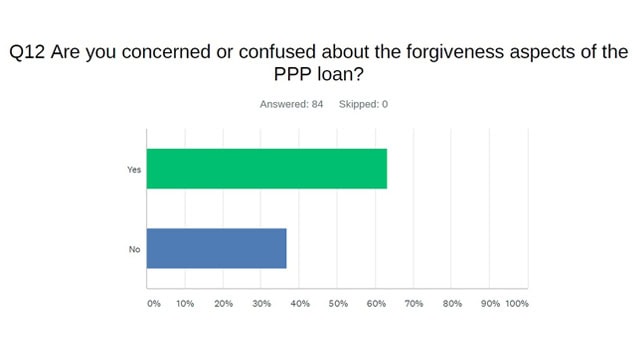 The latest TRSA Business Pulse Survey of operator members closed on May 18. A total of 84 operators responded to the third edition of the survey.
In the latest survey, TRSA added specific questions about the Paycheck Protection Program (PPP) as well as questions about industry messaging and business opportunities moving forward. The results were split evenly among respondents on the options for industry messaging and business opportunities; however, a high number of survey respondents (63%) indicated concern and/or confusion about the loan forgiveness terms of the PPP loan.
Industry messaging opportunities that the survey noted include the following:
Reusable isolation and surgical gowns, scrubs and other healthcare garments for a more sustainable supply chain (instead of disposables)
Table linens in restaurants for cleanliness
Commercial laundering of restaurant garments (i.e., chef coats, front-/back-of-house uniforms)
Commercial laundering of healthcare garments (i.e. scrubs)
Hygienically Clean certification
Additional facility/hygiene/cleanliness products/services
Outsourcing of hotel/hospitality linens and uniforms
Message mats (i.e., "Wash Your Hands," "Social Distancing," etc.)
While the economy is certainly rough right now, there is hope for the future. As one survey respondent noted, "I have been in this industry for 38 years now. I have never seen anything like this in my career and I asked my 87-year-old father, who started in the industry in 1959, the same questions and he said that he doubts that anyone alive today has seen anything like this. We are a 116-year-old company, so we will survive this, but it will not be without some pain. Good luck to everyone out there!"
To review the results of the first and second Business Pulse Surveys of operator members, click here and here, respectively. TRSA also ran a pair of Business Pulse Surveys of associate members/suppliers to the linen, uniform and facility services industry. Click here and here to see the results of the associate surveys.