Business Pulse: Suppliers Report Delays, Cancellations in Orders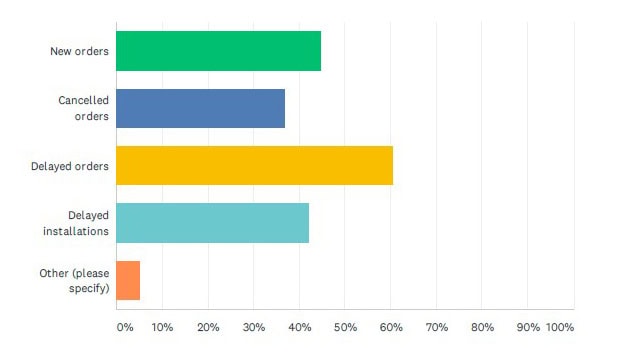 TRSA recently conducted a survey of its associate members to get data on the impact of COVID-19 among suppliers to the linen, uniform and facility services industry. The initial survey closed on April 3.
In the past 15 days, 37% of survey respondents had orders canceled, while 61% had orders delayed. Forty-two percent of respondents had experienced delays in a previously planned installation. On the bright side, 48% of respondents had taken new orders in the past 15 days.
As a result of declining business, 58% of suppliers expect their revenues to fall well below expectations for the next 30 and 60 days. Fifty-one percent expected revenues to fall well below expectations 90 days from the date of the survey, and 39% thought revenue would fall well below expectations 120 days out. Twenty-nine percent of survey respondents expected business to return to pre-COVID-19 revenue levels in six months, with 39% expecting it to take a year for business to return to normal.
Industry suppliers have taken several measures to offset the impact of COVID-19 on their business, including layoffs (26%), hiring freezes (37%), reduced costs (55%) and reduced hours (37%). Twenty-nine percent plan to seek financial assistance and/or loans to get through the crisis.
In the past 30 days, suppliers have taken a number of actions to protect employees and customers from COVID-19, including the following:
Increased use of personal protective equipment (PPE): 45%
Increased cleaning/housekeeping in the plant and vehicles: 58%
Communicated with customers through email/mail, telephone, etc.: 74%
Communicated with employees through handouts, posters, meetings, etc.: 63%
TRSA also conducted a Business Pulse survey of its operator members. The findings from the initial survey of operators, which closed on March 27, can be found here.