Business Pulse Survey Highlights Hiring Struggles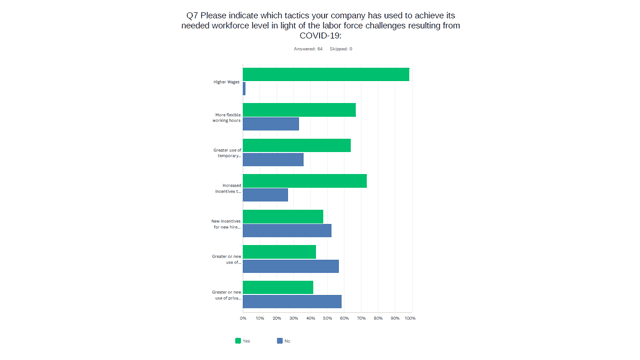 TRSA recently released the results of its Business Pulse Survey for the fourth quarter of 2022. The survey was conducted in November/December and received more than 60 responses from TRSA members. The respondents operate across a range of market sectors, including industrial/workwear, food-and-beverage, acute and nonacute healthcare, hospitality/hotels, and mixed operations.
It remains a challenge for linen, uniform and facility services companies to fully staff their operations. The breakdown by area for 100% staffing:
Production, 14%
Engineering/Maintenance, 25%
Customer Service, 48%
Route Drivers, 19%
Management, 51%
In order to achieve necessary levels of staffing, 98% of survey respondents are offering higher wages, 67% are providing more flexible working hours, 64% are using more temporary employees, 73% have increased incentives to employees for referrals or hires, 48% are offering new incentives for new hires to remain with the company, 43% have increased their use of or began to use government and/or community groups for recruiting, and 42% have increased their use of or began to use private employment agencies.
As for revenues, the majority of survey respondents were operating at or above expectations for revenues since July 1 of this year. A total of 16% of respondents said their company was operating well above expectations, 38% were slightly above expectations and 36% were near expectations with regards to revenue.
Most respondents indicated that their company has bounced back from the downturn caused by the COVID-19 pandemic. Comparing their company's financial position/valuation today compared to pre-COVID (March 2020), 63% indicated it was greater while 28% said it was about the same. Roughly 9% said their company's financial position was less compared to pre-COVID levels.
Click here to review the results of the latest Business Pulse Survey. TRSA will conduct another Business Pulse Survey in the first quarter of 2023.