Business Pulse Update: Industrial Operators Show Signs of Optimism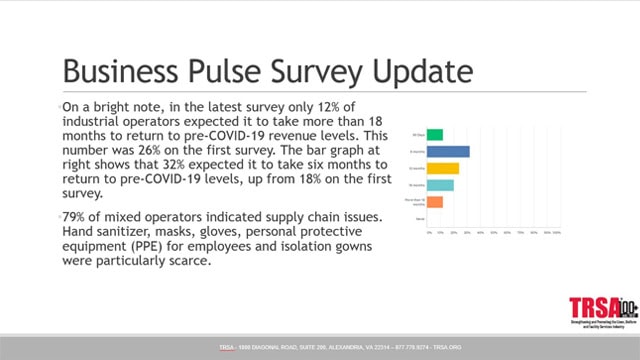 TRSA recently closed its Business Pulse Survey of operator members on April 14. The second round of the survey received 118 responses and expanded its list of questions to include the impact of recent legislation from the federal government designed to help businesses recover from lost opportunities as a result of the COVID-19 pandemic.
The survey findings showed great interest in the Coronavirus Aid, Recovery and Economic Security (CARES) Act Paycheck Protection Program (PPP) loans among industry operators. Seventy percent of the survey respondents said they'd applied for the loans.
Industrial operators showed signs of optimism for a return to normal revenue levels. Of that group, only 12% said they expected it to take more than 18 months to return to pre-COVID-19 revenue levels. This number was 26% on the first survey that closed on March 27. A total of 32% expected it to take six months to return to pre-COVID-19 levels, up from 18% on the first survey.
Less optimism was evident in other sectors of the industry. On the healthcare front, acute-care respondents reported a decline in revenues from the initial survey. The latest results showed that 32% of respondents anticipate year-to-date revenues falling well below expectations. That's nearly double the number of 17% from the earlier survey. Likewise, 100% of non-acute healthcare operators expected revenues to fall well below expectations 15 days, 30 days and 60 days from the survey date.
Hospitality/hotel operators were even less optimistic, with 88% describing their revenues as likely to fall well below expectations, versus 57% in the initial survey. For F&B (food-and-beverage) operators, 27% said they expected it would take more than 18 months before they could expect a return to pre-COVID-19 revenues. Six percent of F&B operators expected it to take more than 18 months on the first survey.
Supply chain problems for certain products continue to be the new normal. Seventy-nine percent of mixed operators indicated supply chain issues. Hand sanitizer, masks, gloves, personal protective equipment (PPE) for employees and isolation gowns were particularly scarce.
Jason Risley, TRSA's senior editor, digital/new media, detailed the findings of the latest Business Pulse Survey on TRSA's brand-new Weekly Industry Update webinar that launched on April 16. The webinar also featured updates from TRSA President & CEO Joseph Ricci, Vice President of Government Relations Kevin Schwalb and Director of Membership and Outreach Ken Koepper. Visit TRSA's On-Demand Learning Center at www.trsa.org/ondemand to view the presentation on the association's latest responses to the COVID-19 crisis. Click here to sign up for the April 23 Weekly Industry Update webinar.
To view the findings of TRSA's inaugural Business Pulse Survey of operators, click here. Click here for findings from the association's survey of industry suppliers.