California Reopening Tour Pushes TRSA to Nearly 6,000 Miles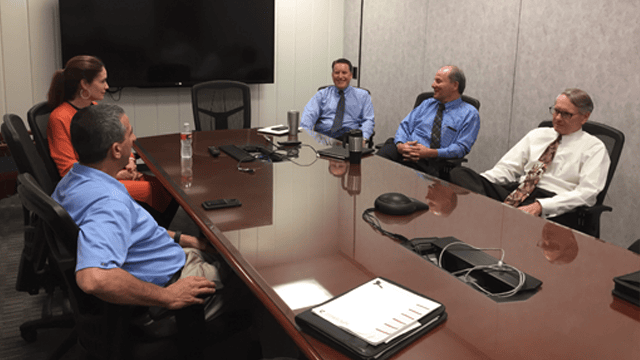 TRSA's three Reopening Tour legs have generated unprecedented information-sharing through personally reporting these meetings' highlights to members at subsequent stops on each leg and generating social media posts for industry stakeholders to view everywhere as the trips proceeded. The legs consisted of two 2,500-mile-plus road trips with staff driving to meet members through 14 U.S. states and a fly/drive covering more than 600 miles in California.
Posts from the Tour on TRSA's Facebook, Twitter, Instagram and LinkedIn pages have emphasized members' positive experiences, despite labor and supply shortages, to give other members ideas for strategies to overcome COVID-19-induced challenges.
The June tour leg (Midwest) extended from TRSA's Alexandria, VA, headquarters through Pennsylvania, Ohio, Indiana, Missouri, Kansas, Iowa, Minnesota, Wisconsin and Illinois; the route for the April trip (Southeast) included stops in Virginia, North Carolina, South Carolina, Alabama and Tennessee. Factoring in the California leg in September, which included meetings uniting multiple members in Los Angeles and Sacramento, nearly 60 member companies participated in meetings at more than 70 business locations.
More than 40 participants (20 member companies) attended the meetings at the Hotel Inter-Continental Downtown in Los Angeles and Sutter Club in Sacramento. These sessions gave Kevin Schwalb, TRSA government relations VP, an opportunity to update members on the latest developments in California government of interest to the industry (see previous article) as well as federal concerns:
The federal budget reconciliation process and its links to passing an infrastructure bill; implementing new corporate, individual tax rates and surcharges on annual personal income over $5 million; and requiring employer contributions to employees' childcare.
President Joe Biden's (D) executive order to OSHA to develop an emergency standard requiring businesses with 100+ employees to get them vaccinated for COVID-19 or tested once every three days. Regulatory language had yet to be published; legal challenges are expected when this takes place.
TRSA's efforts to impress upon federal agencies the need to require healthcare facilities to maintain an operating stock of reusable PPE (such as isolation gowns) to offset potential shortages of disposable equivalents.
Work at the federal level to ensure such facilities provide clean garments to employees at the onset of a shift and change out at the end.
The need to head off possible regulation of discharges to sewers of microplastics and per- and polyfluoroalkyl substances (PFAS).
Company facilities visited on the California leg included:
Alsco Inc., San Francisco
Aramark Uniform Services, Vernon
Complete Linen Services, S. San Francisco
Lace House Linen Supply, Petaluma
Magic Laundry Services, Montebello
Prudential Overall Supply, Irvine
Sacramento Laundry Co., Sacramento
Shasta Linen Supply, Sacramento
TRSA Chair Noël Hammer Richardson (Shasta Linen Supply, Sacramento) joined Schwalb, TRSA's President and CEO Joseph Ricci, and Ken Koepper, director of membership and industry outreach, for these meetings and the leg's Southern California stops. This latest tour leg began in Carlsbad, where TRSA completed preparations for its October 19-21 108th Annual Conference at the Cape Rey Carlsbad Beach, a Hilton resort and spa.
Because of labor market pressures, all three tour legs have included discussions of members' employee recruiting and retention techniques. Most of the 24 TRSA social media videos posted from the California leg were similar to those from the Midwest leg in which members' employees testified to the quality of their workplaces. These videos feature long-term staff who have achieved management posts, as well as supervisors and employees who came to the industry from difficult backgrounds such as prison sentences, periods of homelessness and single motherhood.
The California leg was a bit more upbeat on labor than the Southeast and Midwest segments, as members reported getting closer to hiring and retaining enough staff to meet customer demand, attracting more higher-quality candidates and keeping more people on board longer.
Another aspect of the tour supporting members: dinners in their customers' restaurants, with posts promoting these restaurants as well as their linen, uniform and facility services by linking to the social media pages of both.