Call for Nominations: TRSA Lifetime Achievement, Service Awards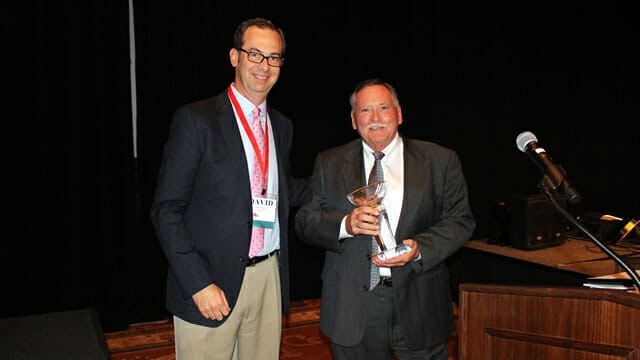 Click Here to Nominate – The TRSA Operator Lifetime Achievement Award (must be an operator member to nominate)
Click Here to Nominate – The Maglin/Biggie TRSA Lifetime Achievement for Associates Award (operators or associate members may nominate)
Click Here to Nominate – TRSA Service Awards
Nominations are open through May 31 for the TRSA Lifetime Achievement and Service awards that will be presented at TRSA's 106th Annual Conference in Boston, Sept. 17-20.
The TRSA Operator Lifetime Achievement and the Maglin/Biggie TRSA Lifetime Associate Achievement Awards are the highest honors bestowed upon an industry professional, recognizing exceptional personal service to both the linen, uniform and facility services industry and TRSA.
Nominees for the Lifetime Achievement Awards should have served the association and industry by providing subject-matter expertise and leadership such as (but not limited to):
Leadership and participation on a TRSA committee or service on the Associate Executive Committee (as applies)
Serving on the TRSA Board of Directors
Providing articles to Textile Services magazine
Presenting at TRSA conferences or other meetings
Teaching at TRSA institutes such as EMI, MMI and PMI
Assisting in the writing of TRSA manuals and handbooks
Working with TRSA members to improve their processes to the betterment of their companies
Recent recipients of the TRSA Operator Lifetime Achievement award include:
Steve Larson, Alsco Inc., Salt Lake City (2018)
Ronald Croatti, UniFirst Corp., Wilmington, MA (2017)
Steve Bryant, Wildman Uniform & Linen, Warsaw, IN (2016)
Recent recipients of the Maglin/Biggie TRSA Lifetime Achievement Award for associates include:
David Hart, M+A Matting, LaGrange, GA (2018)
Jim Pellerin, Pellerin Milnor Corp., Kenner, LA (2017)
Ralph Howard, Kleen-Tex Industries Inc., Atlanta (2016)
TRSA's Service Awards recognize employees of member companies who have worked in the industry for at least 25 years. Certificates of merit acknowledging employment anniversaries are awarded every five years through the 45th. Plaques are awarded in the 50th year. All member companies are encouraged to submit for their eligible employees. Names will also appear in Textile Services magazine.