'Calm Before the Storm': Healthcare Operators Share Best Practices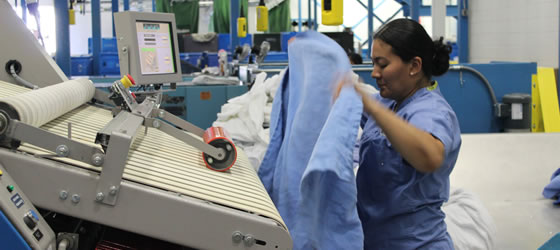 TRSA recently hosted a teleconference with healthcare operators to discuss best practices for processing linens in the midst of the COVID-19 pandemic. Nearly 200 laundry executives attended the March 25 presentation.
Featured speakers included Randy Bartsch, owner, Ecotex Healthcare Linen Service Corp.; Dr. Murray Cohen, chairman, Frontline Healthcare Worker Safety Foundation and a retired U.S. Centers for Disease Control and Prevention (CDC) and World Healthcare Organization (WHO) epidemiologist; Dr. David Goldsmith, epidemiologist, George Washington University; and Joseph Ricci, TRSA president and CEO. Angela Becker, Ecolab; Steve Tinker, Gurtler Industries Inc.; and Angela Freeman, TRSA certification programs manager and Healthcare Committee liaison, also appeared on the call.
Ricci kicked off the hour-long call with a look at what TRSA is currently doing to communicate with its members as well as government officials about the crisis. He also looked forward to how the industry will recover once the COVID-19 pandemic subsides.
Bartsch followed up with an overview of the challenges for healthcare operators at this time. "The healthcare sector has its unique challenges as we try and provide a comfortable and safe environment for patient care, clinicians and caregivers, and, in my view, we're at a time where it's the calm before the storm as far as the projections. To use an analogy, the cake is in the oven. We're just waiting for it to emerge … Notwithstanding, we'll see things change dramatically over the next couple of weeks."
With that threat in mind, Goldsmith detailed the importance of proper personal protective equipment (PPE) for staff dealing with patient laundry that may be contaminated with COVID-19 virus particles from infected patients. "TRSA has put out some materials and done an effective job in educating leaders in business, and by extension their workers, in ways to minimize the potential for transmission of the virus," Goldsmith said. "That is simply to undertake the activities that you're already doing – when staff are working in the laundry, they should change out of their civilian clothes and put on the garments that are used while working in the laundry. Additionally, there needs to be a very strict determination about clean laundry versus the dirty side of the operation. Finally, there has to be a very serious focus on dealing with the laundry that is, in fact, potentially contaminated with COVID-19."
Having care and compassion, and being an educational resource, for production staff and employees during this difficult time is important as well, according to Cohen. "Even when there's not panic, there's certainly great concern," Cohen said. "I think you have an opportunity, if not an obligation, as an employer to be an information resource – tell them of course what they need to do at work – explain what that means and why they're doing it. Do all the sanitation and hygiene things we're talking about. This is going to be over – we just have to get through it right now. Everybody needs to go home and hug their kids, it's that type of time."
Cohen stressed the importance of social distancing, including in the plant and on the production floor. "This is the only tool we have that is working," Cohen said. "It worked in China, South Korea and Singapore. We really don't have anything else until we get some treatments that work."
Several questions were addressed on the conference call, including:
Any information or possible risk from contacting COVID-19 from laundry?
Are there any new PPE requirements or increased protection for soil-sort employees, and what is the standard PPE most laundries are using?
How to best handle if an employee (or employee family member) who has worked in the plant recently has tested positive or is suspected of having the virus? Do you have to quarantine the whole plant?
Can I take an employee's temperature at work to determine whether they might be infected?
The teleconference closed with a detailed question-and-answer session moderated by Freeman. For more information and guidance related to COVID-19, visit www.trsa.org/covid19.
TRSA's healthcare teleconference was one of four such sector-specific calls made this week. Separate calls focused on food-and-beverage (F&B), hospitality and industrial laundry operators. In addition to the calls, TRSA is organizing sector-specific task groups for all four types of laundry operators as they seek to enhance business growth strategies in the wake of the COVID-19 crisis. Contact TRSA's Ken Koepper at kkoepper@trsa.org for details.
In closing, Bartsch said, "Keep calm, wash your hands and be safe. We're carrying out an important role here over the next number of weeks. Let's do everything we can to keep everybody healthy and help those that are infected by this. Certainly, our hearts go out to those that are affected directly or indirectly."