Campus Laundry Closing Highlights Societal Shifts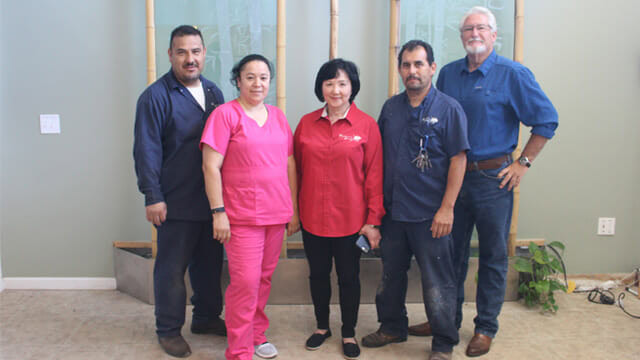 Earlier this month we reported on Emerald Textiles' new 84,000-square-foot healthcare laundry complex in Livingston, CA. This facility soon will begin processing up to 60 million lbs. of rental textiles annually for Northern California acute-care hospitals. Later this year, as part of this transition, a sister facility, Campus Laundry, located on the campus of Monterey Bay Academy, a Seventh Day Adventist high school in La Selva Beach, CA, will shift its production to another Emerald plant located about 106 miles northeast in Turlock, CA.
This move will end an experiment that began in 1966 when the school had sought to provide students with "real world" work experience in the laundry (along with other hands-on industrial enterprises based on its 379-acre campus). "Our church's educational philosophy is that to educate only the mind you're missing half the boat," said Jay Ketelsen, vice principal for operations who ran Campus Laundry from 1990-2008. "It's really important to engage people, gain knowledge through your hands, and learn the importance of work."
In line with this approach, the school, founded in the late 1940s at the site of Camp McQuaide, a former military base, has a long history of leasing space to various businesses that have employed students as interns or part-timers. Ketelsen, who graduated in 1976 from Monterey Bay Academy, later oversaw the Harris of Pendleton furniture business based there. He transferred to Campus Laundry in 1990. By then, students were a dwindling presence as the laundry had shifted from processing textiles for small hotels and students' clothing to servicing acute-care hospitals. Campus had come to rely on full-time staff, "They only worked on the clean side," Ketelsen said of the students. "It just wasn't productive."
As Campus grew under the leadership of Mike Firestine, Marvin Burske and others, its healthcare business needed more automated equipment, such as tunnel washers, to continue its expansion. After Firestine took a job with a laundry in Ontario, CA, Ketelsen left the furniture business to run the laundry. He brought in Western State Design to help plan a modern laundry that could accommodate a volume of 6.5 million lbs. or more. The school's Board of Directors responded that the laundry's growth had begun to dwarf the school's educational mission. Their response to Ketelsen's request for a $1 million upgrade was that he should instead find an outside operator to run the laundry.
That's how Greg Anderson, chairman of Emerald, took over Campus Laundry in 2008. Initially, the school's loss of laundry revenue was a concern, particularly in the summer months when the students were gone, Ketelsen said. "All the revenue stream from the laundry would go to keep the lights on and salaries going at the school." That first summer after the sale, Ketelsen wondered, "What are we going to do?" School officials went to Anderson and his business partner Steve Syvertson. In response, Anderson agreed to prepay utilities for four months "What a huge bridge," Ketelsen said, noting that Emerald also has donated generously to school scholarships and various fundraisers.
Fast-forward to 2019, and Emerald has now outgrown the 20,000 square-foot Campus Laundry. Meanwhile, the school has evolved as well. Its vocational focus has shifted from manufacturing to science, technology, engineering and math (STEM) clients, such as aerospace and electronic-vehicle manufacturers. These companies like the location, which includes 6/10th of a mile of pristine Monterey Bay beachfront. "We have a tremendous amount of aerospace work being done, R&D work on campus," Ketelsen says. "Some of the largest names in the world that are exploring unmanned flight, UAV (unmanned aerial vehicle) development, electric propulsion, electric motorcycles and electric bicycles."
The shift to tech companies is a win-win for the tenants as well as the school. Nearly 20 lessees get open space with a private air strip and employees can avoid commuting to the San Francisco Bay area. Students, in turn, have gained access to internships and presentations by tech execs on topics related to cutting-edge research. Parents like the new emphasis too. "My parents were happy that I worked in a lumber mill in a furniture factory when I was young," Ketelsen says. "Today's parents want their kids to learn to write software."
Unfortunately, the closing of Campus Laundry will displace some 50 employees, including some with decades of experience. Longtime Plant and Customer Service Manager Elisa Rasor says she's "up in the air" as to her next move. Emerald has offered severance pay to full-time staff who work through the closing. The company also is encouraging Campus staff to apply for jobs in the Livingston or Turlock plants, and they've offered help with moving expenses.
Change is never easy, particularly in an age of healthcare consolidation that makes it difficult for smaller operators like Campus to keep pace with rising volumes and the need for economies of scale that the new Livingston plant will provide. So, as the Campus Laundry experiment draws to a close this fall, its experience underscores the evolution of schools like Monterey Bay Academy, along with the business of healthcare laundering.
Watch for additional coverage of Campus Laundry in Textile Services magazine.