Canada – CEO Panel Weighs Issues, Opportunities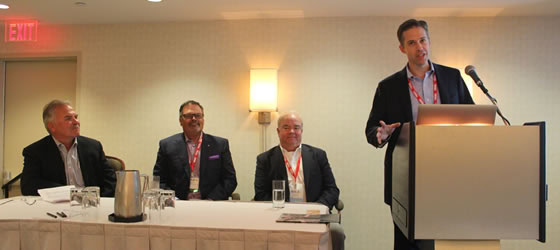 Tim Topornicki, president & CEO of Topper Linen & Uniform, was on a weekend skiing trip when the phone rang shortly after 5 a.m. on a Saturday morning. The news was the last thing any operator wants to hear: his family-owned linen plant in Toronto was engulfed in flames and scores of firefighters were battling to save it.
On the way back to Toronto, Topornicki, days away from his 60th birthday, watched in horror as video coverage of the fire aired on his phone via You-Tube and forced him to confront a harsh reality. "You're watching your whole life go up in flames," Topornicki said. "It's a little bit shocking."
Topornicki spoke as one of four executive panelists representing Canadian laundries or U.S. companies with operations in Canada. The panel discussion was part of TRSA's Canadian Plant Tours and Roundtable, held Aug. 29-31 at a Hilton Hotel in central Toronto. The panel drew more than 100 attendees who jammed a large meeting room in order to hear reflections on business trends and developments in Canada from Topornicki and three other operators: Randy Bartsch, CEO of Ecotex Healthcare Linen Services; Bill Evans, president and CEO of AmeriPride Services (including Canadian Linen & Uniform Service) and Andrew Steiner, a family owner of Canadian Linen/AmeriPride, who currently oversees its Canadian operations as a senior vice president.
Topornicki told the attendees that before the fire at Topper Linen was out, he took a determined stance toward rebuilding. In comments to local news media, he promised to "soldier on" and that the company would recover from this tragedy. The inspiration was mostly a gut reaction, Topornicki said, but it's hard to argue with success. While the new plant is still months away from completion, Topper Linen hasn't lost a single customer related to the fire, he said.
Topornicki added that he was moved by the outpouring of support that he received from industry colleagues, including many from the United States. He acknowledged that many of these friends were people he met through TRSA educational programs that have helped him run a successful commercial laundry business. "The TRSA is where I learned so many things, and I visited so many plants and talked to so many people," Topornicki said. "You learn the most in these organizations when you come to seminars like this, but you learn an awful lot more after the seminar's over and you talk to people and you start sharing stories and you're able to pick up the phone. It's TRSA that has allowed us at Topper to grow our business and get better at what we do … become more efficient.
"I just love TRSA. If you're not involved in TRSA you should be. Send the young people and let them learn this industry."
Canadian operators like Topornicki especially value the benefit of networking with laundry and supplier colleagues due to the highly taxed, highly regulated system that operates north of the border. Property taxes in Toronto, for example, are higher than comparable U.S. cities, such as New York and Chicago, he said. Real estate costs are also very high, which is one reason why Topper Linen is rebuilding on his current site, rather than relocating the business.
Another issue for Canadian operators is workforce diversity. Heavy immigration to Canada from dozens of other countries has changed the labor market, Topornicki says. That's OK, but it complicates training, communications and safety efforts when you have – like Topper Linen – 11 different languages spoken among the employees.
Access to low, or no-cost healthcare is a big reason why so many immigrants come to Canada, Topornicki says. He quickly adds that the healthcare is not "free." Businesses and individuals pay taxes to fund the government's "single-payer" model of healthcare finance.
While the fees for the government-funded healthcare pose costs for businesses, the government's need to stretch its budget and control costs has created the right environment for outsourcing of laundry and other nonclinical services, said Bartsch, whose company focuses solely on healthcare with innovative products such as its EcoGown, an enhanced-modesty gown designed to lower costs, while enhancing end user comfort.
Bartsch's perspective is of interest because Ecotex operates plants on both sides of the U.S. border. Therefore, he gets to experience healthcare funding issues in two markets. In both cases, Canada and the U.S. face demographic trends that show rising numbers of elderly retirees who don't pay into the system and smaller numbers of working taxpayers who must cover the costs. "There's a huge rise in the age of the population with nobody below them," Bartsch said. "It puts incredible pressure to reduce costs and increase efficiency. Government are under pressure. What we're trying to do is provide a fresh approach. Certainly we expect that trend to accelerate over the next five-10 years."
While it's focused on saving money and satisfying customers, Ecotex – as its name implies – also is committed to environmental sustainability, with a focus on saving fresh water and energy and emphasizing the use of reusable operating room textiles.
Canadian Linen isn't heavily involved in healthcare at this time. However, like Ecotex, it shares a strong commitment to sustainability. This includes active participation in TRSA's Clean Green environmental certification program. "AmeriPride is the largest company in TRSA to get the Clean Green designation," Evans said. "And we've recently become certified for a second time. We're very proud of that." While he had the floor, Evans also noted that AmeriPride recently issued its annual sustainability report. "We really take our environmental and sustainability responsibilities very seriously," he said.
While Evans is the first non-family CEO in AmeriPride's 125-year plus history, Andrew Steiner is a fourth-generation family owner who's now taking on increasing executive responsibilities. Having worked for many years in IT, customer operations, and marketing, he currently oversees the company's Canadian operations and regularly visits its 16 production facilities over the border. He told the story of how the company expanded to Canada after his great-grandfather took a vacation to Vancouver, BC. He recognized the great opportunity in that market and soon opened a linen supply business there. The business now employs approximately 2,200 people across the country and  serves a wide variety of customers, with an emphasis on workwear and safety-related garments. "We have a diverse customer base in Canada," Steiner said, noting that about half of the products it provides are industrial, with a strong presence in hospitality, F&B and facility services businesses, as well. As for healthcare, "While smaller, it's experiencing significant growth," Steiner said.
After the panel presentations and questions, the panelists broke into groups to discuss issues related to the healthcare, industrial and F&B sectors. Several issues were discussed, ranging from government regulations to outsourcing, safety apparel, traffic problems in Toronto and more.
After the panel presentations and questions, the panelists broke into groups to discuss issues related to the healthcare, industrial and F&B sectors. Several issues were discussed, ranging from government regulations to outsourcing, safety apparel, traffic problems in Toronto and more.