Chicago Member Execs Tackle Advocacy, HR Topics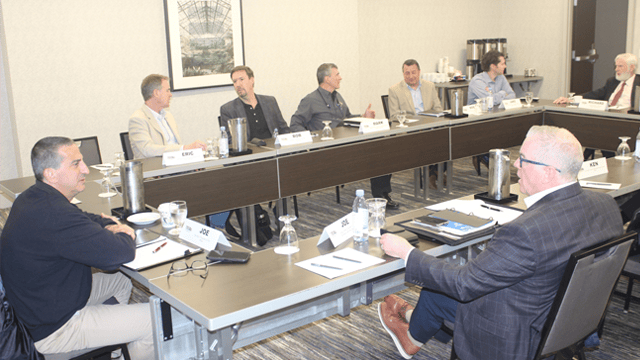 A recent TRSA Town Hall in Chicago examined priorities for mobilizing the industry on government advocacy issues and promoting linen, uniform and facility services as employers. The discussion on May 16 gave executives from local companies an easily accessible, in-person forum to learn about TRSA's latest activities on these issues and share information on their efforts to deal with them.
Among high-priority advocacy concerns is anticipated regulation of the industry's discharges to sewers of per- and poly-fluoroalkyl substances (PFAS) and microplastics.
PFAS designates the broad class of 4,500 manufactured chemicals used to make cookware coating, carpets, clothing, paper packaging for food and fire retardants. Questions about PFAS center on the fact that it is persistent chemical that can enter the environment through wastewater effluent.
Laundries are considered a top five industrial wastewater source of PFAS, and drain samples from all soil classifications or textile/garment types have contained PFAS. TRSA has pointed out that consumer sources of PFAS are far more significant.
It was suggested that TRSA consider quantifying the industry's PFAS discharges to reflect the significance (or lack thereof) of the industry's threat to the environment. Ultimately, TRSA might guide the industry in eliminating such discharges entirely.
Wastewater pretreatment costs to prevent discharges could represent the largest such expenses the industry has ever faced. Such pretreatment would likely require disposing of PFAS filtrate, an environmental problem unto itself. TRSA President and CEO Joseph Ricci observed that textile manufacturers are studying eliminating PFAS from their products. They need to determine if alternative chemistries might be more environmentally problematic. They also need to document how much PFAS is shed from washing and from which items. Flame-resistant fabrics have been implicated, but other barrier treatments, such as those used in healthcare, could be targeted as well.
Kevin Schwalb, TRSA's government relations VP, also noted the interest of regulators in controlling discharges of microplastics from washing processes. Such interest is significant in Europe. In California, TRSA has advocated against legislation that would require all washers (home and commercial) to contain microfiltration devices.
It's been shown that microplastics are shed initially from the initial wash after manufacturing; there's no hard evidence of such shedding in a commercial laundry, Schwalb pointed out. TRSA had called for amending the bill to study this. It's been withdrawn repeatedly and may not resurface. But he expects activity on this issue in other U.S. states to continue.
The discussion highlighted the need for members to alert TRSA when a local regulatory threat emerges. This was critical in recent years when the U.S. Environmental Protection Agency (EPA) rolled out air-emission controls and enforcement activity unevenly across the country. Member companies reporting their experiences are not identified when TRSA communicates the existence of such threats to other members.
The Town Hall took place the day before TRSA's HR, Health and Safety Summit in Chicago and two days prior to the Production Summit there. Both of those events dedicated sessions to supporting members in recruiting and retaining employees in the current seller's market for labor. The Town Hall covered this subject as well, with participants considering how to promote the virtues typical of linen, uniform and facility services. Among the ideas shared:
Neighborhood employers. While many facilities are in suburban industrial parks or redeveloping areas where housing is more expensive, others are within walking distance of employment candidates' homes. Or they're close enough that carpooling or mass transit makes for an easy commute. Companies that have been established in the same location for years can promote themselves as community contributors.
Drivers' varying motivations. Telematics, handheld devices and cellular technology have accelerated digital communication between route representatives and their managers. However, they have also replaced some two-way, face-to-face conversation with one-way impersonal data transmission. For individuals who thrive on teamwork, this is a negative. Others prefer more autonomy. Either way, engagement is critical, indicating the need to customize opportunities to interact.
Employee orientation. Engagement can increase when new employees are educated about a company's mission, philosophy and history. Sessions that expose them to corporate culture also can include practical instruction or background on how the company serves customers, whether an employee's position requires communication with them or not.
Town Hall participants included:
Robert Fesmire, Ellis Corp.
Jacob Gurtler, Gurtler Industries
Joseph LaPorta, Healthcare Linen Services Group
Bob Mazur, Regent Apparel
Brian Polatsek, EcoBrite Linen
Chuck Rossmiller, Medline Industries
Richard Senior, Morgan Services
Mark Stedman, Roscoe Co.
Eric Underwood, MIP USA