Cintas' Chief Weighs in on Company's Growth, Culture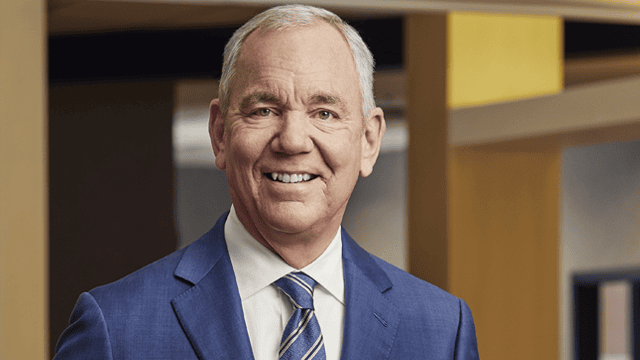 After a 40-year tenure that has witnessed unprecedented innovation and meteoric growth in the uniform and industrial services sector and related markets, Cintas Corp. Chairman Scott Farmer now sees his company's biggest long-term challenge in figuring out how to compete not only against other laundries, but with online companies such as Amazon and retailers such as Wal-Mart that he sees as eyeing the linen, uniform and facility services and direct-delivery market.
"We converted the no-programmers all along," says Farmer, who after 18 years as CEO retired from that post on June 1, in favor of Executive Vice President and COO Todd Schneider. "Those are people that don't use our rental services. We have a million business customers today. There's somewhere between 16 and 17 million businesses in North America, depending on how you define a business. All of those businesses are in segments where we have at least one or some percentage of customers. We can try to go after all of that. There's a big opportunity for us to do that, and so can Amazon, Wal-Mart or all the other online retailers."
Farmer discussed Cintas' future during a recent "Teams" video interview with Textile Services Weekly from his office in Mason, OH. He's been there daily "riding the storm out" since the COVID-19 pandemic began in March 2020. Farmer hopes the pandemic is finally waning in the U.S. and will soon do so in Canada as well. He made it clear that while he's handed off day-to-day control of the company to Schneider, a 32-year Cintas veteran, Farmer will continue to offer guidance to this publicly held company in which his family has a controlling interest. This includes the challenges posed by Amazon and other online retail giants. "We see ourselves today looking out into the future and having to decide how we're going to compete with those kinds of companies."
The broader question we posed in our talk with Farmer and separate interviews with Schneider and Tom Frooman, Cintas' legal counsel who's retiring on July 31 (Click here to see related article) is what's made it possible for Cintas to grow not only into the largest U.S. uniform and industrial services provider, but one that's also capable of mounting a head-on challenge with some of the world's largest retail companies? The answer, says Farmer, is Cintas' corporate culture.
A headline in the "About Us" area of cintas.com notes that "The heart of Cintas is much more than products and services." Farmer agrees unequivocally. He credits the company's growth from roughly $35 million in sales when he began as a management trainee in 1981 to $2.69 billion when he became CEO and $7 billion today to Cintas' commitment to corporate responsibility – coupled with a sense of competitive urgency. "The most important element of our ability to grow as a company is the culture that we have," says Farmer. "Embedded in our DNA here at Cintas is the importance of growth, and that's up and down the entire organization. Everybody understands what their role is in order to continue to grow."
However, that growth doesn't allow for corner cutting. The website notes that at Cintas, "We hold ourselves accountable at every level," adding that "Always we operate according to the Cintas Code of Conduct – mandating full compliance with laws and regulations and preserving the integrity of our company." The code offers guidance to staff – referred to as "employee-partners" – to make decisions that are grounded on legal and ethical standards. For example, the code asks partners whether a given action is legal, honest and safe in every respect (click here for details).
Broadly speaking, Farmer views Cintas' drive to achieve enhanced engagement with partners on safety and other issues as a key career accomplishment. "Of all of the things that have happened during my tenure as CEO, I would say one of the things that I'm most proud of is the continuing level of engagement between the frontline partners and the frontline management team," he says.
Watch for July's issue of Textile Services magazine for more of Farmer's reflections on the growth and corporate culture of Cintas during his tenure and how the company has addressed a range of challenges.