Cintas' Farmer: A Tough, Ethical, Fair & Accessible Leader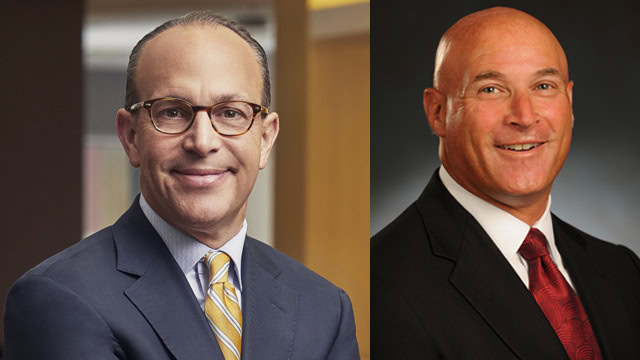 Scott Farmer's 18-year tenure as president and CEO of Cintas Corp., Mason, OH, has featured several tests of his leadership skills, according to two key lieutenants, Todd Schneider, who succeeded him as president and CEO on June 1; and Tom Frooman, who will retire on July 31 after 20 years as the company's in-house general counsel. Both men recently spoke to Textile Services Weekly on their longtime leader.
Within days of Farmer's succeeding his father Dick as president of Cintas in 2003, labor activists mounted a no-holds barred "corporate campaign" aimed at organizing the entire company from the "top down," i.e., without secret-ballot voting, Frooman says. Instead, the idea was to present staff with "card check" authorization cards, in lieu of a formal election. Farmer felt it was wrong for the union to approach his "employee-partners" as the company refers to them, in this fashion. For the next eight years, he resisted the corporate campaign – despite significant costs and union-inspired negative publicity. Farmer felt that if the partners wanted to unionize, they could do so through a democratic vote, Frooman says. Farmer could have simplified matters by giving in to the union's demands. "It would have been cheaper and easier for Scott as a new CEO to say, 'Let's just agree; they'll give us a great union contract. It's going to cost less in labor today if I agree with this.'" But Farmer declined, saying that giving in to the union's demands wouldn't be fair to the partners or the company. "'I don't care what I have to do,'" Frooman recalls him saying. "'If our partners want to be unionized, they can do it through a secret-ballot election. I am not going to make the decision for them.'" The resistance paid off. Union activists dropped the campaign.
Schneider credited Farmer with taking a similar stand on a different issue: the need to improve the company's safety record. Shortly after Farmer took over as CEO, questions arose as to whether partners in the field were following safety guidelines laid out by the company. "Our safety journey is a key part of the maturation process that we went through at Cintas," says Schneider, a 32-year veteran of the company. "We recognized we weren't where we wanted to be from that standpoint. But Scott led us to make the safety of our partners not just a priority, but part of our culture." Schneider added that Farmer made safety a "bottom-up" process with extensive involvement from "frontline partners" as well as management. Fast-forward to 2021, and Cintas is an acknowledged safety leader, with the industry's lowest incident rates and its largest number of Voluntary Protection Program (VPP)-certified sites (approximately 120). This rigorous incident-prevention program is sponsored by the Occupational Safety and Health Administration (OSHA) "It's embedded in our culture now," says Schneider of safety. "That's critical for us. It started with Scott's leadership, certainly. He made the decision. 'That's where we're going.' But a key component of the strategy was a high level of engagement from our frontline partners."
Frooman says Farmer's management style during various challenges during his tenure – from the unionization drive to safety and the COVID-19 pandemic – epitomize his approach to decision making. "He listens to team members, from partners in the plants to his executives and decides the best course of action – not caring who gets the credit," Frooman says. "What he cares about is making the best decision for the company. He's not going to say, 'It's my decision; we're going to do that.' He's going to hear what other people think. And as a result of that, we tend to come up with the best solutions. … It's not about who's right but what's right."
Watch for July's issue of Textile Services magazine for more on Farmer's impact on Cintas and the linen, uniform and facility services industry during his tenure.