'Clash of the Titans': Growth Key to Countering China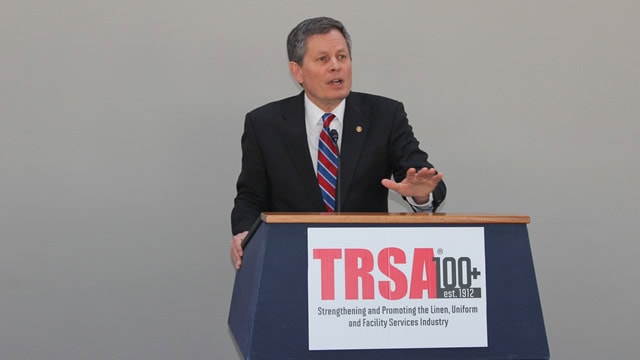 At the time of the American Revolutionary War in the late 1700s, China was the worlds' leading economy. That changed in more recent times, but China's rapid economic growth since the 1990s – coupled with its aggressive military buildup in the Far East – now poses a significant threat to U.S. interests. Without significant U.S. economic growth, we can't hope to compete.
That was the key takeaway that TRSA members got during a breakfast meeting with Sen. Steve Daines (R-MT) a former Proctor & Gamble executive who lived and worked for several years in China before his election to Congress as a U.S. House member in 2014.
"The stakes couldn't be higher," said Sen. Daines, in a meeting with TRSA members in the Hart Senate Office Building that served as the kickoff for a series of Capitol Hill visits by some 50-plus members. "We face very challenging times going forward," Sen. Daines added. "President Xi (Jinping) has now declared himself president for life in China. Those are chilling words. And I say that as someone who's worked with the Chinese government for years."
Sen. Daines said the key to the U.S. response to the Chinese challenge is to grow the economy, rather than the government. The recently approved tax cut measure, which reduced corporate levies from 35% to 21% is designed to spur growth that ultimately will enhance America's defense capabilities in an era of uncertainty. "By most analysts, China will have the world's largest economy by approximately 2030," Sen. Daines said. "Their GDP (gross domestic product) number is 6%-8%. We've been sub-3% or 2%. One of the greatest challenges we face is how do we get this economy going again. That was one of the key drivers for the tax cut bill. We looked at what we need to do here to drive growth."
Sen. Daines added that during the debate, he and Sen. Ron Johnson (R-WI) teamed up to lobby their colleagues to include tax relief for "pass-through" or sole-proprietorship businesses, partnerships and S-corporations, as well as "C-corp" businesses. Late in the process, President Donald Trump got involved in the discussion, which ultimately did produce a measure of relief for both business categories, Sen. Daines said. He recalled that during the holiday season, a call from the White House came just as the senator and his wife were decorating their Christmas tree. "I took the call and the operator said 'please hold for the Air Force 1 dispatch.' I said 'Sweetheart the president's calling.'" Sen. Daines said he told the president that small and independent businesses need tax relief to spur growth. I said, 'Mr. president, we need to lower the taxes on the pass-through side.' He said, 'Steve I think that's a great idea.'"
Sen. Daines, who serves on the Homeland Security and Government Affairs Committee, understands that it's important to engage with China, even if he disagrees with their governing philosophy. To that end, the senator said he'll soon be leading a delegation of high-ranking colleagues on a fact-finding mission to China to meet with government leaders there. "We fly into that dynamic next week," Sen. Daines said. "The stakes are very high. If you look at what China is doing very aggressively militarily around the world."
At the same time, China's economy has grown from $500 billion in 1992, to $12 trillion today, the senator said. China is advancing in key sectors of technology, including quantum computing and biotechnology. "If we don't watch out, they'll become the world's leader in innovation," he said, noting that China graduates 7 million college students annually, and half of them earn technical degrees in areas such as computer science or engineering. The U.S. needs pro-growth policies to help the private sector keep pace with China's expansion. Sen. Daines' message to TRSA members was that he'll do all he can in Congress to help private-sector companies achieve this needed growth. "The clash of the titans is here now and will only increase as we look down the road," he said. "I'm honored to be here with you all to be your advocate and fight on your behalf. You are the solution, not the problem."