Clean '15 Kickoff – TRSA's Reception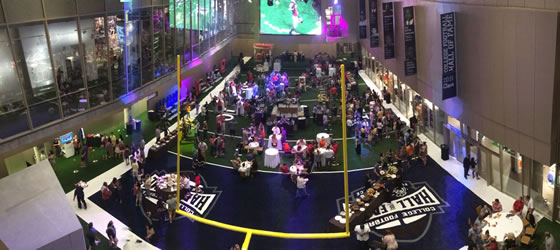 PRESS RELEASE

Contact Ken Koepper, 703,519.0029, ext. 109
CFB Hall of Fame Event to Kick-Off Clean Show
The newly opened College Football Hall of Fame in Atlanta will provide a unique venue for TRSA's Kickoff Tailgate on April 15, the opening event of the biennial Clean Show.
"The College Football Hall of Fame has so much drama, history and color that it will amaze fans and nonfans alike," said TRSA President and CEO Joseph Ricci. "When 'game day' for the 2015 Clean Show arrives early next year, we'll be ready to welcome attendees at one of most exciting venues anywhere in the United States."
Textile Services Weekly recently toured the College Football Hall of Fame, which opened earlier this year, as part of a "FAM' or familiarization tour sponsored by the Atlanta Convention & Visitors Bureau. Representatives from several laundry industry trade media outlets also saw the hall, which includes a 45-yard football field that doubles as a large meeting space – complete with artificial turf, tackling dummies and goal posts. This area is where TRSA will hold its Tailgate party.
"The theme of this Hall of Fame is something for everyone," said the Hall of Fame's Brad Olecki, who welcomed the trade media visitors last week. "This is a national Football Hall of Fame. It celebrates football from coast to coast."
Attendees at TRSA's Tailgate at the hall, which is likely to draw roughly 500 people, not only will enjoy sipping cocktails and nibbling hors d'oeuvres while standing on an indoor gridiron, they also may wander over 30,000 square feet of exhibit space. There they'll find a treasure trove of information and memorabilia from college football's long history. At kiosk displays, we listened to and watched tapes of players such as Lynn Swan (University of Southern California) and Archie Manning (University of Mississippi) talk about how college football had shaped their lives on and off the field. "Dedication, sacrifice, leadership … all these things I learned in football have been beneficial to me in my life," Manning said.
When you enter the hall, one of the first things you see is a wall of 768 football helmets representing the vast majority of the National Collegiate Athletic Association's Division I, II and III teams. Adjacent to the helmets is an enormous mural festooned with images of football greats from scores of schools going back many decades.
The hall's exhibits are designed to help fans connect with their favorite teams in an interactive fashion. Tailgate attendees will receive an "All-Access Pass" that will allow them to register their name and favorite college football team. When they do a light will flip on near the base of their team's helmet on the wall. They can use the pass to approach information kiosks that will let them call up information on virtually any Hall of Fame player, coach or team going back many decades. Once you key in a school, information comes up, including profiles of its bowl appearances, Hall of Fame players, etc. Everything you ever wanted to know about college football Hall of Famers is here, including video clips of roughly 98% of the players named to the Hall of Fame.
Another exciting feature of the Hall of Fame is its ultra-high-definition semi-circular shaped theater where you can see a fast-paced video on college football that puts viewers right in the center of the story of the game. You'll hear cheerleaders screaming, see red, blue and yellow banners waving and hear fans roaring as a voiceover says "Welcome to the College Football Hall of Fame, where every day is game day!"
Click here to learn more about the TRSA Kickoff Tailgate or to register. Tickets will include food, beverages and the access to the hall's displays and exhibits. Space is limited and this pre-Clean celebration is expected to sell out quickly. Don't delay, or you may miss "game day" at the College Football Hall of Fame, and the opening event of Clean '15! For more on the College Football Hall of Fame, click here.