Clean 2019 Ends on a High Note in New Orleans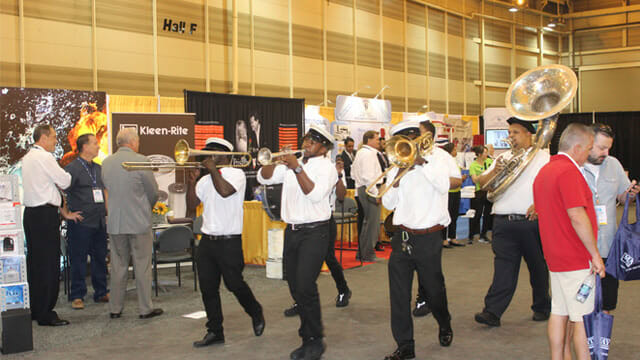 Clean Show 2019 came to a close on June 23 after four days of exhibitions, education and networking designed for professionals in the linen, uniform and facility services industry. Registrations for the 2019 edition of the show totaled 11,108, with 224,500 net square feet of trade show floor space, a sellout for the second consecutive show.
At a press conference during the Clean Show, TRSA President & CEO and Clean Executive Committee Chairman Joseph Ricci joined Messe Frankfurt executives Iris Jeglitza-Moshage, chief of communications and senior vice president of technology; and Konstantin von Vieregge, president & CEO, Messe Frankfurt North America, to discuss details of the Clean Show's recent sale to Messe Frankfurt and to look ahead to upcoming shows.
Ricci provided details of the process that took place between TRSA and the four associations that sponsor the show when selecting a new owner for the biennial event. The process began when John Riddle, owner of the Clean Show's longtime management firm Riddle & Associates Inc., announced his retirement. "After carefully considering a number of possibilities, the five associations agreed that Messe Frankfurt was the best group to manage the show and provide value for each association," Ricci said.
The deal is for 10 years, with each of the five sponsoring associations involved in the next five shows. Upcoming shows include:
Clean 2021, Atlanta, June 10-13
Clean 2023, Orlando, FL, May 18-22
Clean 2025, Las Vegas, June 9-12
Clean 2027, New Orleans, May 13-16
The Clean Show falls under Messe Frankfurt's portfolio of global textile care events, including Texcare International, Frankfurt am Main, Germany; Texcare Asia, Shanghai; Texcare Forum Russia, Moscow; Texcare Forum India, Mumbai; Texcare Forum France, Paris; JET Expo, Paris; and Gulf Laundrex, Dubai. Jeglitza-Moshage noted that each of these show's focus on the central challenges affecting the linen, uniform and facility services industry worldwide, including:
Digitalization and data management
Hygiene
Textile innovation and smart textiles
Energy and resource efficiency
Keep an eye out for more coverage of the Clean Show with the upcoming post-show edition of TRSA's Clean Show Daily e-newsletter and upcoming issues of Textile Services Weekly and Textile Services magazine.