CLEAN to Invest $8.7M to Expand Yeovil Laundry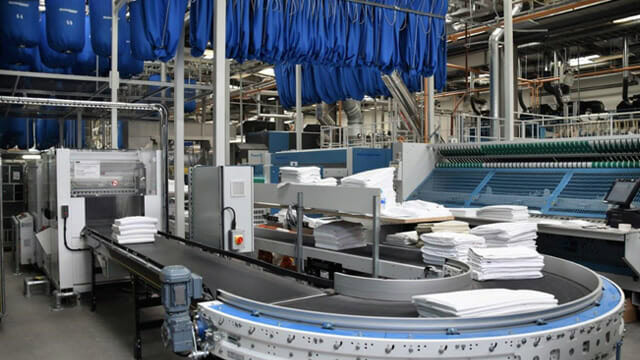 CLEAN, Maidenhead, Berkshire, England, recently announced plans to invest $8.7 million (£7 million) in its location in Yeovil, Somerset, England, to increase capacity, boost jobs and help it build on its existing success, according to a news release.
The next phase of investment will see the Yeovil site increase its processing capacity by 50% – from 800,000 pieces of linen per week to 1.2 million. Additionally, the company will introduce 35 new production and driver roles to its existing 261-strong workforce.
So far $3.4 million (£2.7 million) of the $8.7 million (£7 million) investment has been put into the site, financing a 400-square-meter mezzanine floor, and new meeting and training rooms. CLEAN plans to use the remaining funds to expand capacity further at the site and to invest in new machinery with the aim of making the Yeovil laundry the largest processing site of the company's seven locations, the release noted.
Expansion of CLEAN's Yeovil laundry, which serves customers across South West England, including Premier Inn, Marriott and Harbour Hotels, also means the creation of new jobs for the community and development of its current team. CLEAN estimates that increasing capacity at the site, which has been in operation since July 2011, will enable it to grow revenue from $92.4 million (£74 million) to $124.9 million (£100 million) by 2023.
News of the company's investment plans comes following a highly successful period for CLEAN Yeovil. The site's team achieved 100% of customer orders for more than 300 days throughout peak season, meaning that more than 20 million pieces of linen were delivered on time and with no mistakes or returns, the release said.
"We have ambitious expansion plans for CLEAN Yeovil and this level of investment will enable us to achieve it," said Kevin Godley, CEO of CLEAN. "The site's track record for order accuracy is unbeatable. Even the most renowned delivery companies would struggle to successfully achieve this level of efficiency, so we know we will grow from a strong base. We look forward to sharing our plans further with Yeovil residents as we move forward."
CLEAN was acquired in  June 2018 by Alsco Linen and Uniform Rental Service, based in Salt Lake City.