Clean Show Sold to Messe Frankfurt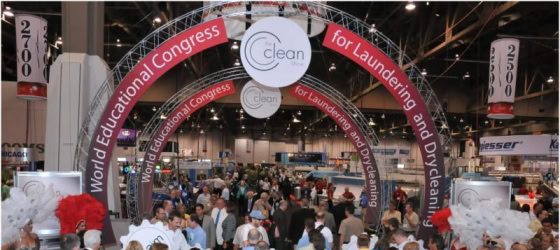 Messe Frankfurt, an international trade fair, congress and event organizer with its own exhibition grounds in Frankfurt am Main, Germany, recently finalized a deal with the Clean Show Executive Committee (CEC) to purchase the Clean Show, the largest trade fair for linen, uniform and facility services in the Western Hemisphere. As part of the deal, TRSA, the association for the linen, uniform and facility services industry, and its four association partners will maintain their close involvement with the biennial Clean Show.
The last Clean Show, held in Las Vegas in June 2017, was named one of Trade Show Executive's 50 Fastest-Growing shows of 2017. The show was included in all three categories of the awards competition: net square feet of exhibit space, number of exhibiting companies and total attendance. Clean attracted more than 11,000 visitors and 481 exhibitors to Las Vegas in 2017. The first edition as a part of the Messe Frankfurt portfolio of textile-care fairs will be held in New Orleans from June 20-23, 2019. Future events are planned for Atlanta and Orlando in 2021 and 2023, respectively.
Messe Frankfurt will organize the Clean Show in cooperation with its five former owners, including TRSA. "Based on its success organizing international events for the textile-care sector, Messe Frankfurt has the expertise and experience, as well as relationships with key exhibiting partners, to ensure the continued growth and development of the Clean Show," said Joseph Ricci, chairman of the Clean Executive Committee and president & CEO of TRSA.
The purchase of the Clean Show will elevate the portfolio of trade fairs organized by Messe Frankfurt for linen, uniform and facility services businesses. Texcare International has been held in Frankfurt am Main, Germany, since 1956. The network has expanded to include trade shows in China and the United Arab Emirates, as well as conferences in growth markets under the heading 'Texcare Forum.'
Wolfgang Marzin, president and CEO of Messe Frankfurt, said, "With the Clean Show, we have purchased America's biggest trade fair for textile care and gained another module for our worldwide network of events for the textile-care sector. We now hold trade fairs in all major economic regions and offer synergistic effects for both exhibitors and visitors."
Riddle and Associates, Atlanta, led by industry veteran, John Riddle, will manage the 2019 event on behalf of Messe Frankfurt.