CLS Michigan – Mixed Plant Confronts Reopening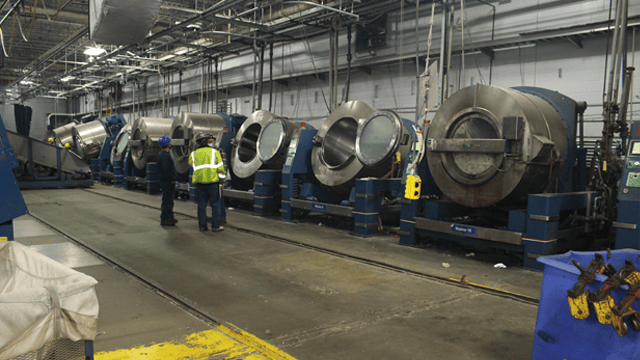 Laundry operators and their customers in Michigan, including restaurants, clinics and manufacturers, soldiered on through the long winter of COVID-19 hoping that by mid-summer they'd see renewed opportunities. Many have, but the state's recent reopening has brought challenges too, including staff and material shortages, amid burgeoning demand from customers. Continental Linen Services (CLS), Kalamazoo, MI, knows they must move decisively to grow in the post-COVID economy. They're now focused on doing just that.
"Michigan seems to have gone from closed and cautious, to wide open," said CLS President Kurt Vander Meer in comments for a profile article on CLS that will appear in August's Textile Services magazine. "I think the vaccine and other parameters our state directed us on are working. The only problem now is the business community (specifically F&B and resorts, or anywhere there is water) is booming past its abilities to supply or service. It's truly a juggling game."
As for the labor situation, Vander Meer added that "Finding competent staff for our production facility and route areas is truly a challenge right now and most likely will not ease for quite some time." To draw in and retain "team members" for its 120-member staff, CLS will continue to emphasize a theme that worked well during the pandemic: CLS' status as an essential business that provides a valuable service to companies across the state's lower peninsula.
This message was driven home to staff during the pandemic, and it continues to resonate. "I do feel that COVID made everybody realize, especially our route guys, how important our industry is," says Sarah Wrubel, senior vice president and an owner of the business. "I don't think they realized how important they were at all until COVID put it right in their faces that, 'Hey, I get to keep working because my customer needs me during this time.'"
"It gave them that sense of pride. I'd say 'Hey, I'm in an industry that is very essential,'" adds Wrubel, who is Vander Meer's niece and a third-generation owner of CLS. "We keep saying that a lot because it's true. Same with our production people, 'We need you here cleaning towels because our customers need them.'" As long as that spirit endures, Wrubel is confident that CLS can navigate whatever challenges the post-pandemic environment can serve up. "Our family company can make it through this with their help," she says.
In CLS's 40,000-square-foot (3,716-square-meter) plant, the management team's focus is on taking a proactive approach to staff to ensure that they're operating in a safe, clean and orderly environment with advanced technology. Textile Services got a look inside the 40,000-square-foot (3,716-square-meter) laundry during a recent walk-through of the CLS facility. Equipment includes 12, 450 lb. Brim Laundry Machinery Co. washer/extractors and one 275 lb. Brim washer. There are also five 450 lb. Brim dryers. During the COVID pandemic, CLS moved forward with the installation of a shuttle system that automated the movement of clean wet goods from the washer/extractors to the dryers. Wrubel says the slow period brought on by the pandemic was a good time to do the installation. "This is my personal opinion, to do the projects while we're quiet," she says. "I never would have been able to install those conveyors – having multiple dryers down for that project for two weeks – if we were in regular time. Because we were in COVID, we were not as busy." The plant's pre-COVID throughput was nearly 470,000 lbs. (213,180 kg.) per week. Weekly throughput in mid-July was roughly 447,407 lbs. (202,940 kg.) per week. It's expected to increase as the Michigan economy continues its reopening/recovery.
While investing in new machinery during the pandemic entailed a degree of financial risk, Wrubel says it was necessary for the company's future. "Short‑term right now it's scary to spend money," she says, noting that CLS is preparing to install a new dissolved air floatation (DAF) system for wastewater as well. "It really is. We have the faith that we're doing the right thing."
For more on CLS, a leading Wolverine State independent with branches in Cadillac, Livonia (Detroit), Grand Rapids, Saginaw and Alpena, watch for August's Textile Services.