Committee Meetings Kick Off Annual Conference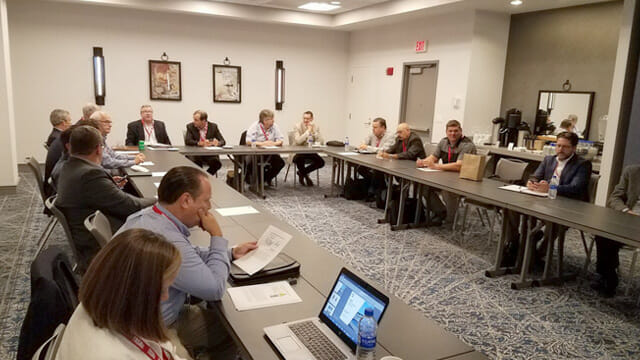 Several TRSA committees gathered on Sept. 17, the first day of TRSA's 106th Annual Conference at the Hyatt Regency Boston Harbor. Committee members gathered in person to provide updates on projects and discuss the latest issues of importance to the linen, uniform and facility services industry.
The following committees held meetings during the afternoon:
Education
Environment & Sustainability
F&B/Restaurant
Healthcare
Hospitality
Industrial & Uniform
Marketing & Sales
Safety
Several key issues affecting the linen, uniform and facility services industry were discussed in detail at the meetings. For example, the Environment & Sustainability Committee discussed microfiber and per- and polyfluoroalkyl substances (PFAS) issues and their potential effects on the industry. A consultant, Kristen Jenkins, joined the meeting to discuss measurement and analytical challenges of PFAS with the committee.
In addition to the opening-day committee meetings, TRSA's Next-Generation Executives and Women in Textile Services committees both held networking events at the conference. For more information on TRSA's committees, including key contacts and how to get involved, visit www.trsa.org/committees.