Congestion Pricing: NY Leg-Con Underscores Industry Opposition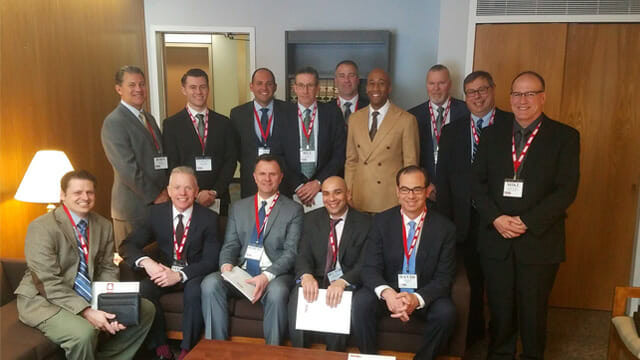 TRSA members gathered on March 4-5, in Albany, NY, for TRSA's 2nd Annual New York State Legislative Conference. The conference was developed to support TRSA's efforts to oppose congestion pricing, a proposal that would add a charge of more than $25 per trip for delivery trucks entering Manhattan.
While TRSA initially succeeded in keeping the linen, uniform and facility services industry out of this program last year, there is an effort in this year's New York state budget to reinstitute the issue.
The group gathered for a general session and issue briefing by Kevin Schwalb, TRSA's Vice President of Government Relations and Paul Thomas of the Parkside Group, TRSA's Legislative Representative in New York. The briefing provided the latest information on the issue, as well as advice on the ins and outs of lobbying on behalf of an issue. New York Assemblyman David Weprin (D-NY) addressed the group on the current status of the proposal. He thanked the attendees for coming to Albany to lend a business perspective to the discussion. "It is important that you are here to represent yourself on this issue, if you don't no one else will," said Weprin. "As an industry group, instead of playing defense, you should find ways to play offense to address any issues affecting your industry."
The next day, the TRSA "lobbyists" went to the State Capitol to meet with their respective legislators, as well as key legislative leaders to ensure TRSA's position is heard and actively considered during debates over the congestion pricing issue. In all, the TRSA delegation visited over 30 state legislative offices. The attendees also met with legislators off the State Assembly floor. The sessions included meetings with both State Senators and House Assembly members, such as Assemblywomen Nily Rozic (D), Kimberly Jean-Pierre (D) and Amy Paulen (D), along with five other elected officials.