Consumer Tracker Raises Hopes for Dining-In Renaissance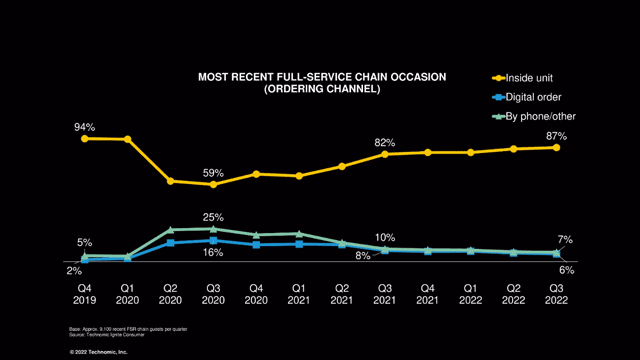 View Webinar Presentation Slides
Prospects are dubious for restaurant patrons to return to previous high levels of dining in versus carrying out. Dining in is likely to grow from current levels, however, as some defection to takeout subsides and the overall restaurant market grows. A leading consumer trend analyst who advises foodservice operators offered this forecast in a Nov. 1 webinar.
This assessment by Robert Byrne, director, research and insights, Technomic Inc., was upbeat for linen, uniform and facility services providers in identifying these trends:
Quality of fare and experience are key components of perceived value in restaurant spending
Diners may not show up as often as they have previously, but when they do, they're ready to spend and vulnerable to temptation
They are looking for a more human touch
Those most interested in dine-in are attracted to elegance in interior design
"Dine-in may never get back to pre-pandemic levels but it may always be considered most desirable," said Byrne, who has presented at TRSA events. He sees "no evidence of trading down," unlike economic downturns of previous decades, when consumers substituted limited-service dining for more expensive full-service options. That could change, though, if menu prices rise too quickly or restaurants surprise diners with add-on charges such as service fees.
"Traffic is probably stuck at its current level if prices continue to rise," he warned, perhaps chipping away at traffic. Should inflation moderate, there's potential for traffic growth. Patrons who might have dined out four times a month might be going only twice now; to return to that higher level, restaurants need to "give them some really good reasons to come back because there is a limit to their cash."
For now, restaurants are seeing a modest decline in traffic but benefiting from increased revenue.
The economy is creating significant headwinds, Technomic surmises. Inflation has reached levels not seen in four decades, especially in food categories, while federal interest rate hikes intended to cool off demand have shaken investor confidence. Although unemployment remains low and consumer finances are relatively stable, stimulus funds have dried up and savings rates are down.
The firm believes there is reason for optimism in the coming year, however, as any recession is expected to be relatively mild. At the consumer level, increasingly expensive groceries will further shrink the perceived value gap between food at home versus food away from home, making dining out more attractive. And while restaurant order and visit frequency will remain flat or may even diminish, consumers' desire to maximize each occasion will be a lifeline for operators.
"Consumers' gradual return to on-premise occasions shows that the industry's demotion of dining rooms may have been premature," a Technomic brief noted. "Years of social distancing and restrictions have created a pent-up demand for an experience beyond a simple meal, while workers' reappearance to offices, increased travel and lengthier time windows for pickup at busy units are also making placing an order and eating on-site more attractive."
Look for consumers to continue to rebalance their restaurant habits, the firm forecasts: an "on-premise renaissance" that will challenge restaurateurs who are short of ideal staffing levels and pinched by inflation.
Special-occasion business looks like a bright spot. Look for consumers to be more flexible about where they hold these. A facility with a good reputation for hosting such occasions may find its market expanding, given the willingness of consumers to travel farther for a celebration.
Interior design plays a key role. Byrne described today's restaurant ambience as "very modern space, although we are coming out of it a little bit. The colors and shades you see are all over the map and back to the natural, so to speak – you hear words like 'oatmeal.'" Design needs to fit the types of frequent or infrequent occasions the restaurant or outlet services.